Curious
It all starts with that first taste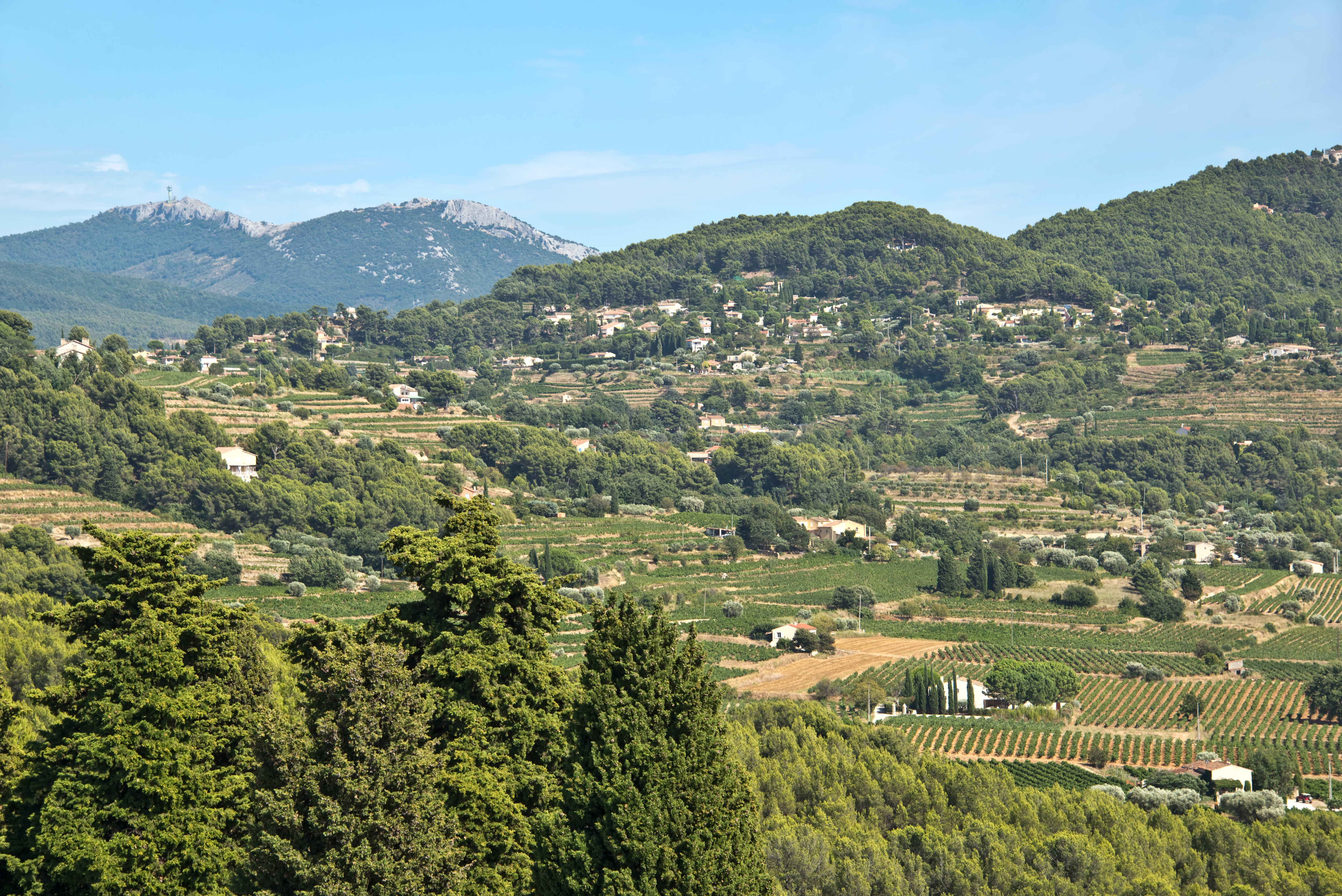 Wine Regions  /  Jul 29  /  BY Julie Baumgardner
Travel Guide to Provence
Tucked away in France's picturesque southeastern corner, Provence conjures rose-tinted visions of drinking wine outdoors amid lavender fields, juniper shrubs and the rolling hills of the garrigue. The French region's unofficial slogan is "c'est la belle vie" for good reason—the landscapes are vast and rugged, the Roman- and medieval-era towns are steeped in history and charm, and the gastronomy is defined by fresh ingredients and regionally inspired flavors. 
Provence spans about 150 miles from the Rhône Villages to the Bandol. Each pocket has a distinct feel and produit—especially the wine. The tapestry of terroir gives way to wines of incredible character, depth, and variety (and we're not just talking about rosé). So pour yourself a glass and read about the restaurants, cultural institutions, and world-class hotels worthy of your next getaway. 
Sip
The wines of Provence are crowd-pleasers, with the crus from Gigondas, Ventoux, and the Côtes du Rhône. And sure, 87% of the wines in Provence are rosé, but the region's white and red varietals shouldn't be glossed over.
Take Mas de la Dame, the oldest estate in Les Baux-de-Provence (a feat for a village that's centuries-old) and recognizable from the paintings of Vincent van Gogh. Sisters Anne Poniatowski and Caroline Missoffe are pushing the bounds of sustainable wine production with their blends of Grenache and Syrah, all organically grown in limestone-rich soil buffed by mistral winds and mountain air. 
Rolle, a native but nearly forgotten grape of Provence, is experiencing a rebirth under the stewardship of winemakers like Rosalyn Gavoty Her eighth-generation family vineyard Domaine Gavoty, was also one of the first producers in the region to grow the grape. The estate's excellent age-worthy white wines stem from this unique grape—and tastings are best enjoyed as an overnight guest of their viniculture stays at La Gite at Domaine Gavoty. 
Turning the Provençal rosé reputation on its heels is husband-and-wife duo Guillaume and Soledad Tari, whose aromatic Mourvèdre and Grenache Noir grapes are cultivated by biodynamic techniques in their sun-soaked terroir, cooled by sea breezes, on the highest point of Bandol's hilltops.
Similarly Valérie Rousselle of Château Roubine—one of 18 Crus Classés domains in Provence—is known for overseeing 13 grape varietals, a rather uncommon practice in Provence, including the rare and difficult-to-work Tibouren grape. Château Roubine is known for reds, including the award-winning cuvée Inspire Rouge, a blend of Syrah and Cabernet Sauvignon. 
If wine tours are a favorite pastime, the official Provence wine route takes you through 430 vineyards and cooperative wine cellars, from the seaside winding all the way up to the mountains. Don't forget to download Destinations Vins de Provence, an app that allows users to find events and activities in the area. 
See
Provence's deep history is ripe for discovery. The Romans not only established cities here that are still thriving today, but designated Provincia (hence where Provence got its name) as their first French Gaul territory.  Roman ruins in Provence are among the best-preserved traces of former civilization (even more so than Italy). There's the famous Le Pont du Gard aqueduct, which traces back to 40-60BC and is the only fully in-tact structure of its kind standing today. Other treasures include the  Maison Carrée and amphitheater in Nimes, the Thermae of Constantine and amphitheater in Arles, the open-aired theater in Orange—all portals to an ancient empire that turned the area into a strategic trading post, not to mention one of France's most important wine regions. 
The region's cultural largesse isn't just at the hands of the Romans. Some of the greatest masters of the 20th century—Cézanne, Matisse, Van Gogh—left an indelible mark on Provence, producing works here that are housed in various cultural centers around the region. And if you love modern art, you're in luck. In recent years Provence has evolved into a contemporary art hub, with a handful of starchitect-designed institutions storing priceless works. 
In Arles, the long-awaited Luma Foundation recently made its debut. Frank Gehry designed the building's twisting stainless steel tower, wrapped in a facade of 11,00 shimmering panels that evoke Van Gogh's Starry Night. For its opening exhibition, the structure—which anchors the 27-acre art and cultural complex—showcased works by Diane Arbus, Annie Leibovitz, Olafur Eliasson and others. 
About 15 minutes north of Aix-en-Provence is Château La Coste, an art and architecture park home to 34 works of art by the likes of Louise Bourgeois, Sophie Calle and Jenny Holzer, plus small buildings and pavilions from Frank Gehry, Jean Nouvel and Tadao Ando. The chateau itself is an ultra-luxe resort favored by bold-faced guests like Kanye West, Bono, and Chris Rock. 
Near Frejus is the Venet Foundation, the former home and studio of French conceptual artist Bernard Venet, who is known for his curved, life-sized metal sculptures. The property also houses Venet's personal art collection, which includes about 100 works by other conceptual artists like Donald Judd, Sol LeWitt, and Ellsworth Kelly. 
Other cultural wonders include the modernist Villa Noailles, the photography-focused Villa Carmignac, as well as the MAC & Mucem in Marseille. If drinking wine while strolling through outdoor sculpture gardens is more your thing, visit the Commanderie de Peyrassol, founded in the 13th century by the Knights of Templar and covering nearly 2,100 acres (230 of which are dedicated to the cultivation of vines), studded with sculptures by Bertrand Lavier and Daniel Buren, among others. 
No trip to Provence is complete without a visit to the open-air markets in Aix, where farmer stalls pop up to sell the freshest flowers, garlic, tomatoes, peaches, honeys, regional speciality chèvre, and, of course, lavender. 
Eat
Fresh, regional ingredients like garlic, olive oil, and herbs are front and center of Provençal cuisine. While simple cafes and bistros serve up fine examples of regional fare, there are plenty of culinary standouts that are not to be missed. 
At the Michelin-starred Chez Bruno, truffles are the star of the program.  Dishes might include puff pastries filled with truffle bulbs, a filet of beef topped with foie gras and sprinkled with truffle "chips," and ice cream that's been churned with flecks of the fungus. If you're still mad for mushrooms after that meal, make a reservation at  L'Oustalet, widely regarded as one of the region's best restaurants, where les truffes are offered alongside Ventoux lamb or a filet de boeuf with juniper. 
For an experience that looks as good on the 'gram as it does on the plate, make a reservation at Château Leoube Pellegrin Beach. Located in Cap Benât on its own private beach, the restaurant pours its housemade rosé, reds and white blends alongside seasonal Mediterranean dishes made from organic ingredients grown in the on-site orchards and gardens. 
Even if you're not staying at Hotel Les Bories & Spa, it's worth stopping by for a meal at the Michelin-starred Les Bories, Gourdes. Chef Grégory Mirer (who trained under Joël Robuchon) sources fresh market produce—tromboncino squashes, Cavaillon melons, Taggiasche olives—for his ever-changing menus. 
If you can peel yourself away from Le Prieuré, Avignon touts another unbelievable sensorial experience at La Mirande. Guests dine on Limoges porcelain in a resplendent space decked out in Aubusson tapestries and crystal chandeliers. Delve deep into the 6 or 9-step tasting menus of chef Florent Pietravalle, whose creative approach to Provencal cuisine has garnered this luxe restaurant (and hotel) not only a Michelin star, but a Green Michelin star for sustainability.
Stay
The Provence region's historic abbeys and noble palaces have found new life as five-star hotels. Opulence, decadence and glamour tend to be the name of the game. This is especially true of Le Prieuré Villeneuve, a former convent steps from the Palace of the Popes and the 12th-century Pont d'Avignon bridge. 
The property, which celebrated its 75th anniversary last year, spans five buildings including the 14th-century priory. It offers 55 gorgeously appointed rooms, dining by acclaimed chef Marc Fontanne, a sumptuous spa, and an outdoor pool that's achingly difficult to leave even though the splendors of Avignon are just outside its walls. 
Another beloved Proveçal retreat is Domaine de Fontenille, set in the Luberon Regional Nature Park and surrounded by a 17th-century vineyard. Hit the pétanque court, enjoy a glass of house-made rosé on the scenic terrace, or relax by the pool. The property's former wine cellar has been transformed into an art gallery that hosts quarterly exhibitions in partnership with international galleries. Guestrooms got a sleek update this year, reopening just in time for summer 2021. 
Life doesn't get much better than at the 18th-century manor house Bastide de Marie, which comprises 14 guestrooms nestled on a 57-acre vineyard.  Stroll through the hotel's fragrant garden teeming with wild roses and white magnolias, or wander through the elegant common spaces, filled with priceless treasures and antiques from around the world. Other draws include seasonal menus, afternoon tea, and tastings of distinct house-made wines. 
For a more contemporary experience in the Luberon, head to Domaine de Andeols, owned by famed fashion photographer Olivier Massart and his wife Patrizia, an interior designer. The couple's vast art collection—which spans 250 paintings, photographers, and furniture pieces—features throughout the property's 19 villas and suites. Highlights include Saarinen tulip chairs, photographs by Nobuyoshi Araki and Ellen Von Unwerth, and Philippe Starck mirrors, not to mention walls wrapped in ostrich leather. 
Curious for more?
Subscribe to our weekly editorial digest and get a curated mix of stories straight to your inbox.