Curious
It all starts with that first taste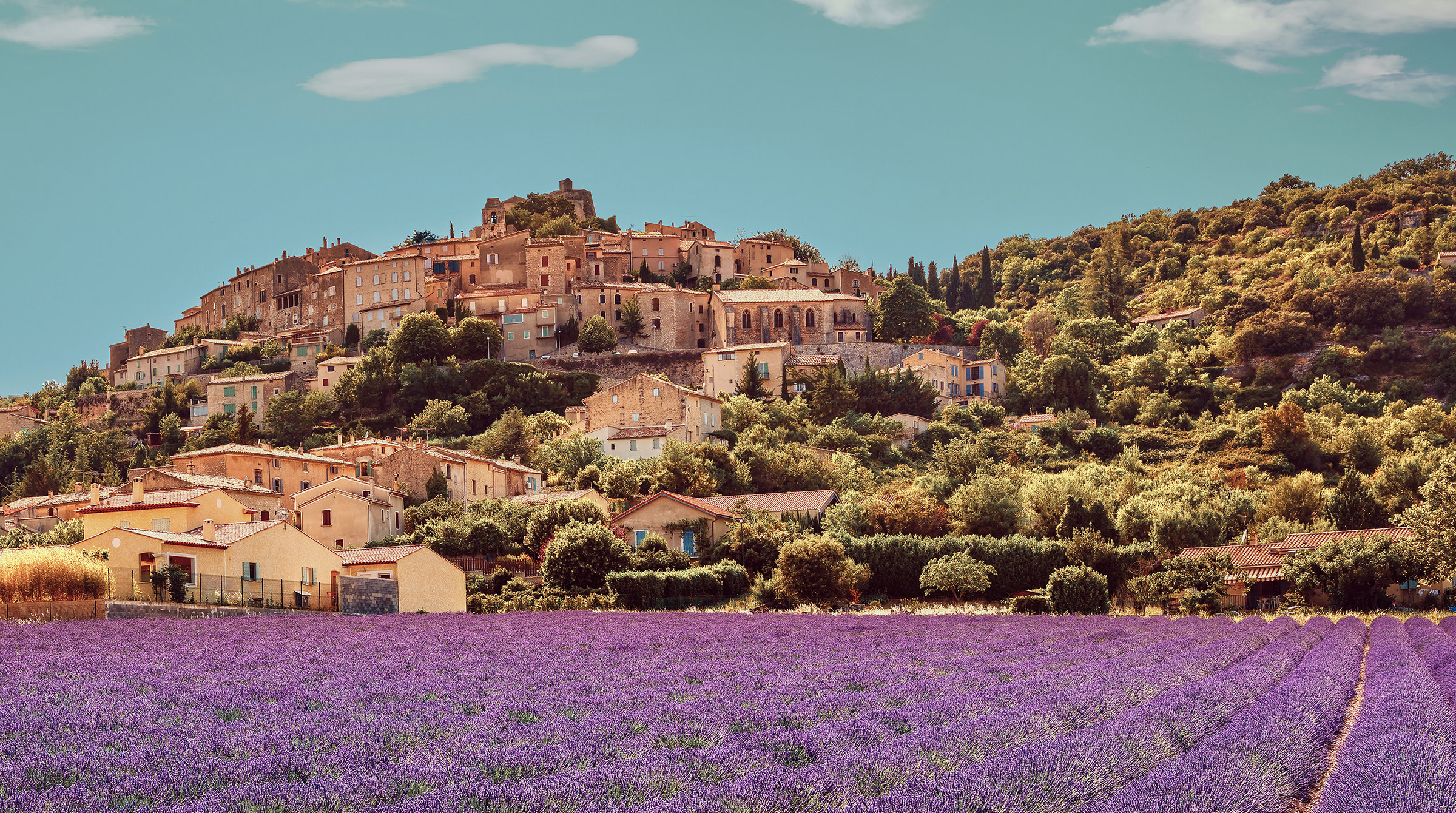 Wine Regions  /  Jul 30  /  BY VIVANT
Region in Focus: Provence
Provence is undeniably best-known for its rosés—dry, pale-pink, and more ubiquitous than ever—but scratch the surface and you'll discover plenty of stellar reds and whites worth seeking out, as well as a robust wine culture that stretches back centuries. 
Located off the Mediterranean coast in southeastern France, Provence draws a steady stream of travelers, thanks to its pristine beaches, picturesque lavender fields, and glitzy towns like Cannes and Nice. But before it became the playground of the international jet set, Provence was a historical wine region. The Phocaeans brought grapevines here more than 2,500 years ago, making Provence the oldest wine-producing region in France.
When the Romans settled on the coast four centuries later and expanded their empire north, they took grapevines to other regions including Bordeaux and Burgundy. In the Middle Ages, the abbeys were the main producers of wine in Provence (as was also the case in Burgundy) until the French aristocracy scooped up many of the region's vineyards.
Provence has a Mediterranean climate, with long, dry summers of warm days and relatively cool nights. Provençal vignerons enjoy more days of sunshine than in the average region. The strong mistral temper the effects of the hot weather and help stave off pests.
Vines grow on rolling hills and in the valleys. Western Provence has mostly limestone soils, while granite and volcanic soils are more common in the east. Shrubs called "garrigue" add to the scenery and, some believe, to the terroir — these are bushes of herbs like lavender, thyme, rosemary and juniper.
Provence's hot, dry climate makes it easier for grapegrowers to practice sustainable viticulture, as vines are less susceptible to disease pressure. Adopting philosophies like organics and biodynamics is the best way to be true to the region's character while guaranteeing that Provence's vineland will continue yielding quality, terroir-driven wines for future generations.
Many of the region's winemakers already have sustainability in mind. The Provence Wine Council has made an additional commitment to have 60 percent of its vineyards be organic or Haute Valeur Environnementale (HVE)—a sustainable certification administered by the French Ministry for Agriculture—by 2024, and to be at 100 percent by 2030.
With some exception, the majority of Provence wines are blends, no matter the color. The region has stayed true to its roots by using grapes that are native to southern France.
The most common white grape in Provence is Rolle, also known as Vermentino in Italy and other parts of France. The Rhône duo of Marsanne and Roussanne often makes appearances in Provence's white blends, as do Grenache Blanc, Clairette, Ugni Blanc and Bourboulenc.
As for reds, Mourvèdre and Grenache reign Provence, supported by Syrah, Cinsault, Carignan, Counoise and others. Winemakers make rosés using just red grapes or a blend of red and white, depending on the style.
Today, 89 percent of the wine made in Provence is rosé. The category has experienced incredible growth over the last couple decades, in part led by U.S. imports. Americans cannot get enough pink wine, the quintessential summer sipper.
Provence has cornered a key part of the market by sticking to a style widely known as Provençal: a rosé that's pale pink like a ballet slipper, and whose characteristics emphasize fresh acidity and minerality as opposed to plush, ripe fruit.
While there's a lot of mass-produced rosé on the market, the most serious producers in Provence take great care in calibrating the perfect color and flavor profile for their pink wines. They do this either by direct-pressing juice off red grape skins or macerating the juice on them for a short period of time.
The well-known "saignée" method — where rosé is a byproduct of making red wine, produced by running juices off the must to concentrate the red's color — is not often used in Provence, as rosé is top of mind for winemakers here and not a afterthought to red wine production.
The largest appellation in the region is Côtes de Provence, which covers about 50,000 acres of land. This is the moniker you're most likely to see on labels of rosé at the grocery store or wine shop. A vast area, it yields a diverse range of rosé, red and white wines, from inexpensive quaffers to more serious juice.
Some excellent producers make wine in the Côtes de Provence AOC, such as the organic Domaine Gavoty and the biodynamic Château Roubine, which is one of 18 crus classés in Provence.
To the west, there's Coteaux d'Aix en Provence, then Coteaux Varois en Provence in the central part of the region. Both appellations have a similar make-up to Côtes de Provence: overwhelmingly rosé, with some reds and whites.
Les Baux de Provence, the westernmost appellation on a hilltop in the Alpilles mountains, is an outlier in Provence for focusing on red wines as opposed to rosé, made mostly from Grenache, Syrah and Mourvèdre. The organic Mas de la Dame is an excellent example of Baux de Provence wines.
Tiny appellations like Cassis, Palette and Bellet are home to several intriguing producers, but the most revered AOC in Provence by far is Bandol, another small enclave right on the coast.
Bandol is famous for its age worthy, robust reds that sometimes need years of aging to mellow out. These are made primarily from Mourvèdre, resulting in bold, spicy wines that meld ripe fruit and earthy flavors together. White wines are made here too, mostly from Clairette. Of course, Bandol producers make rosé too; versions here tend to be more complex and refined, can age a few more years than the typical easy-drinking sipper, and make great pairings with food. Try the organic Domaine de la Bégude for a great taste of Bandol.
Curious for more?
Subscribe to our weekly editorial digest and get a curated mix of stories straight to your inbox.