Curious
It all starts with that first taste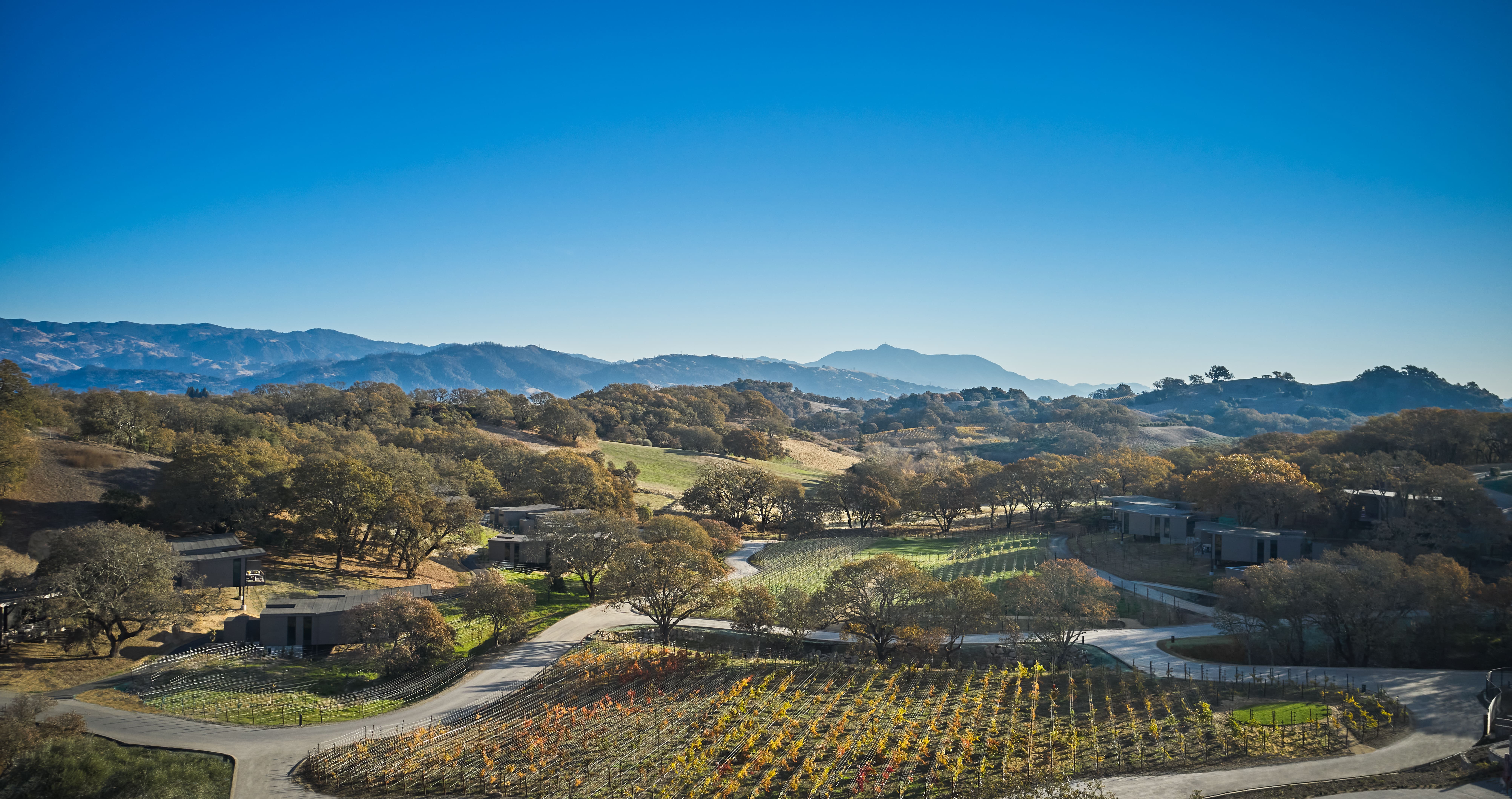 Wine Regions  /  Aug 13  /  BY Siobhan Reid
The Best New Wine Hotels Around the World
There's a lot of work that goes into planning a successful wine-cation—from researching wineries and reserving tours to coordinating transportation. And while we're all for self-directed travel, there's something to be said for staying at a luxe wine resort where all the action comes to you. In recent years, a clutch of high-style wine hotels has hit the scene, wooing travelers with cutting-edge design, breathtaking scenery, and, of course, wine to knock your socks off. Here are 8 properties add to your list.
Who says wine and wellness don't go hand in hand? Spread over 100 wooded acres, this eco-friendly Loire Valley estate offers yoga detox programs, wine-centric Caudalie spa treatments, and an on-site organic winery planted with the rare Romorantin grape variety (the star of the restaurant's delicious house wine). Borrow a bike and cycle to the Château de Cheverny, just 15 minutes away.
At the beginning of this year, Sonoma County debuted its largest luxury resort yet. Set amid rolling hills dotted with vineyards, the Montage Healdsburg comprises 130 bungalow-style rooms, each of which has a private balcony or deck. The resort boasts a dizzying array of amenities—two pools, an 11,500-square-foot spa, bocce and pickleball courts, even a bee apiary. Then there's the wine programming. Go tasting with local winemakers, stroll through the property's on-site vineyard, and discover the area's best vinos at the Hazel Hill restaurant, helmed by chef Jason Pringle.
Croatia's sleekest new island resort isn't a wine hotel, per se. But the property—located in the town of Stari Grad, on Hvar— offers a terrific roaster of wine experiences, all organized through the property's dedicated Wine and Culture Club. Visit the island's terraced vineyards, learn about Croatia's fascinating winemaking history, and enjoy wine and food pairings at local taverns.
A two-hour drive from Toronto, Prince Edward County is a favorite weekend getaway of harried city-dwellers. It's also one of Canada's top (and fastest-growing) winemaking regions, producing superb Gamay Noir, Cabernet Franc, Pinot Noir and Chardonnays. For a stylish sojourn, book a cottage at Wander, a lakeside retreat near Sandbanks Provincial Park. While summer may be most conducive to tasting and touring, winter in Prince Edward County is nothing short of magical. Go snowshoeing through snow-covered vines at Three Dog Winery and Sugarbush Vineyards, then return to the property for live music by the campfire.
There's a lot to love about Piedmont's newest boutique hotel. The 39-room property serves as a luxurious jumping-off point for discovering the best of the Italian region—including, of course, the wine. There's truffle hunting, hands-on-cooking classes, art tours, and an on-site wine academy that offers tastings three times a day. At the Fàula Ristorante, Italian chef Manuel Bouchard uses local wine to create risottos, Piemontese beef stews, and creamy reductions and sauces. For the ultimate foodie getaway, time your visit to one of the many regional culinary events like the International Alba White Truffle Festival (October to December 2021).
Oenology mingles with design at this industrial newcomer to Greece's Peloponnese Peninsula. Athens-based architectural practice K Studio breathed new life into the 100-year-old wine-storage facility, converting its old wine tanks into 40 swish guestrooms with views of the Ionian Sea. The excellent restaurant boasts an extensive selection of Greek wine, and there are also regular wine tastings inside the property's oversized steel silos. Ask the concierge to point you in the direction of one of many incredible wineries nearby.
Conservation is at the heart of this minimalistic retreat on the eastern corridor of Mallorca. One of the island's largest rural estates, the property sits within the protected Parc Natural de la Península de Llevant, where it's surrounded by more than 500 acres of farmland and forest, including a 14-acre vineyard. At the low-waste restaurant, sample a selection of biodynamic wines from Mallorcan producers including Mesquida Mora.
From the team behind the Skyview in Los Alamos and Granada in San Luis Obispo comes this retro-styled boutique hotel in the hills outside Solvang. The 22-room charmer, a former motor lodge, is striking distance from some of the area's top organic wineries including Coquelicot Estate and Grimm's Bluff. After a day full of touring and tasting, unwind at the pool or take a nap in your suite's outdoor hammock.  
Curious for more?
Subscribe to our weekly editorial digest and get a curated mix of stories straight to your inbox.