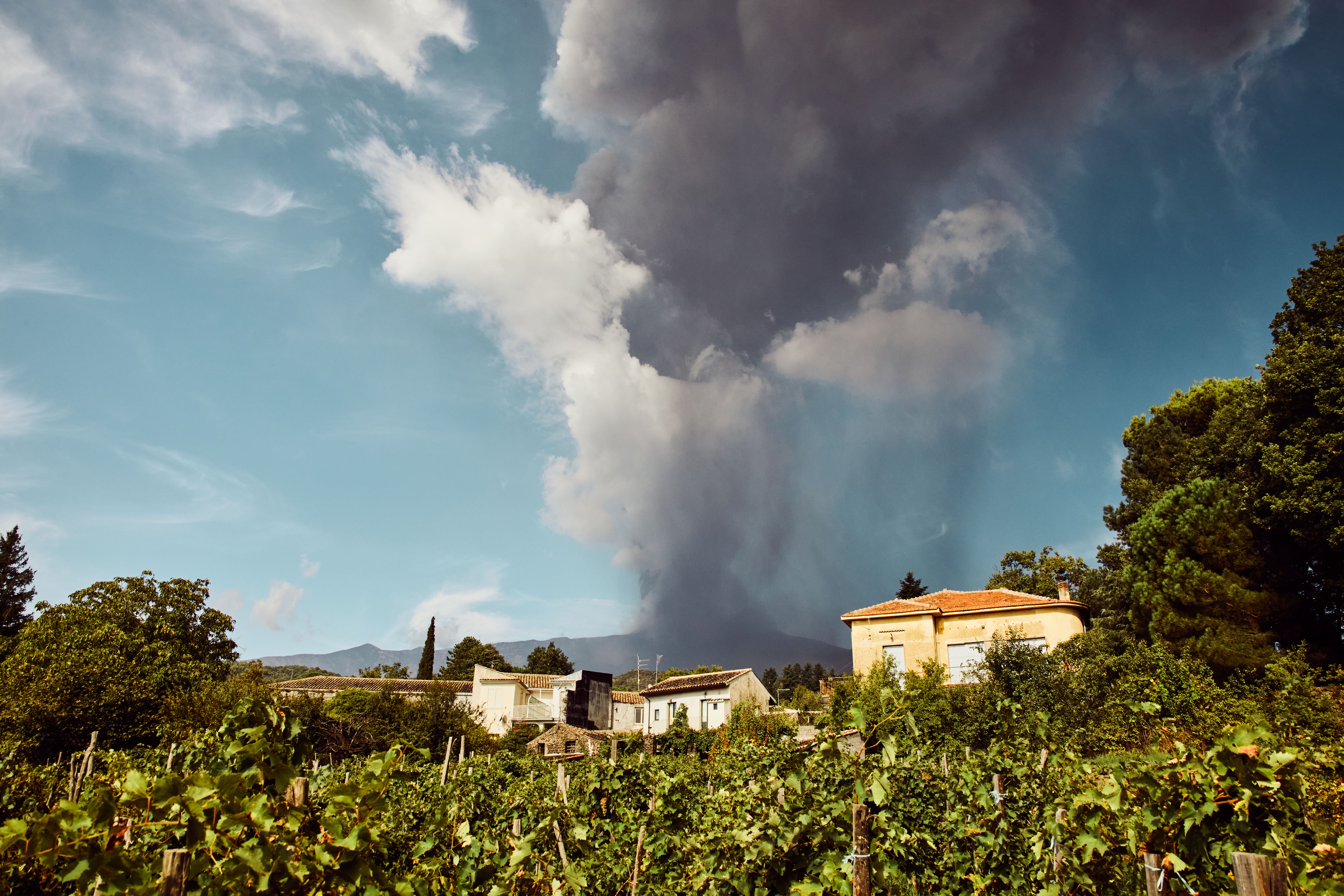 In recent years, "volcanic" has become a buzzword in the world of wine, with bottles from Sicily, Santorini, and other volcanic islands skyrocketing in popularity. But before delving into volcanic wines and describing what makes them so unique, we must first understand the concept of minerality.
Minerality in wine is a non-fruit, non-vegetal aroma and flavor that can range from oyster shell to chalk depending on the terroir. It sounds weird, but a whiff of it in your glass can be tantalizing. Volcanic wines are said to exude minerality from rocks—lava rocks, to be exact. Learn how to identify these aromas and flavors in our Wine Tasting Essentials Experience.
A very small number of wine regions are located near active, dormant, or extinct volcanoes, where ash and lava from past eruptions have created a unique volcanic soil. When vines are planted in key sites, the resulting wines can be incredibly distinct, with pronounced acidity and savory, mineral characteristics. Sustainable viticulture is important for letting these accents shine through.
In Italy—where the VIVANT team just got back from shooting new Experiences (stay tuned!)—volcanic eruptions may have brought about the destruction of the ancient city of Pompeii, but they did give us some of the world's most intriguing wines. Let's take a look at the main players.
The best-known volcanic wines hail from Sicily, an island off Italy's boot tip. Here, the volcano Mount Etna even has an appellation (or DOC in the Italian wine classification) named after it, Etna, where vineyards grow at 11,000 feet in elevation. The indigenous grapes Nerello Mascalese and Nerello Cappuccio make light- to medium-bodied, elegant red wines with earthy, minerally bite. Etna's winemakers also make whites from local varieties like Carricante and Catarratto.
Elsewhere in Italy, the Vesuvius, of Pompeii fame, has influenced the wines of the Campania region. Look out for Taurasi reds, made from the robust, spicy Aglianico grape. Falanghina, Fiano and Greco di Tufo are also important white grapes here, often showing off their minerally character.
In the Veneto region of northern Italy, select slopes in parts of Soave have volcanic soils, notably basalt and tuffaceous, lending vibrancy to the appellation's finest Garganega-based white wines. In Alto Piemonte, the Gattinara, Bramaterra and Boca terroirs have porphyritic soils from an ancient volcano's activity long ago, imparting minerality to their Nebbiolo reds.
In Greece, Santorini is not just a popular vacation island, it's also the home of delicious wines made from volcanic soils thanks to powerful eruptions thousands of years ago. Here, the Assyrtiko grape reigns supreme, making briny, food-friendly and sometimes smoky white wines.
Traveling farther south to the Canary Islands, the striking Lanzarote island is blanketed with black volcanic ash from mass eruptions in the 18th and 19th centuries. Grapes grow on bush vines in craters with half-moon walls around them to protect them from the strong winds. The red grape Listán Negro makes floral, spicy wines, while whites from Malvasía Volcanica are saline and juicy. Neighboring island Tenerife also has basalt volcanic influence on its wines from Mount Teide.
Island hopping next to the Azores, a Portuguese archipelago 1,000 miles west of the mainland. The principal island, Pico, is where most of the vineyards are located. Grapes grow in volcanic fissures and on terraces protected by basaltic rock walls. Vintners here focus on indigenous white grapes like Arinto, Verdelho and Pico Terrantez for their expressive, briny wines.
Even the U.S. is home to some interesting volcanic wines. The Red Hills Lake County AVA on the northern end of California's Napa Valley produces noteworthy Cabernet Sauvignons and blends from red soils at the foot of Mount Konocti.
Curious to get a taste of volcanic wines? They'll be available on VIVANT before you know it. In the meantime, check out our selection of the best organic and biodynamic wine in France.
Curious for more?
Subscribe to our weekly editorial digest and get a curated mix of stories straight to your inbox.