Curious
It all starts with that first taste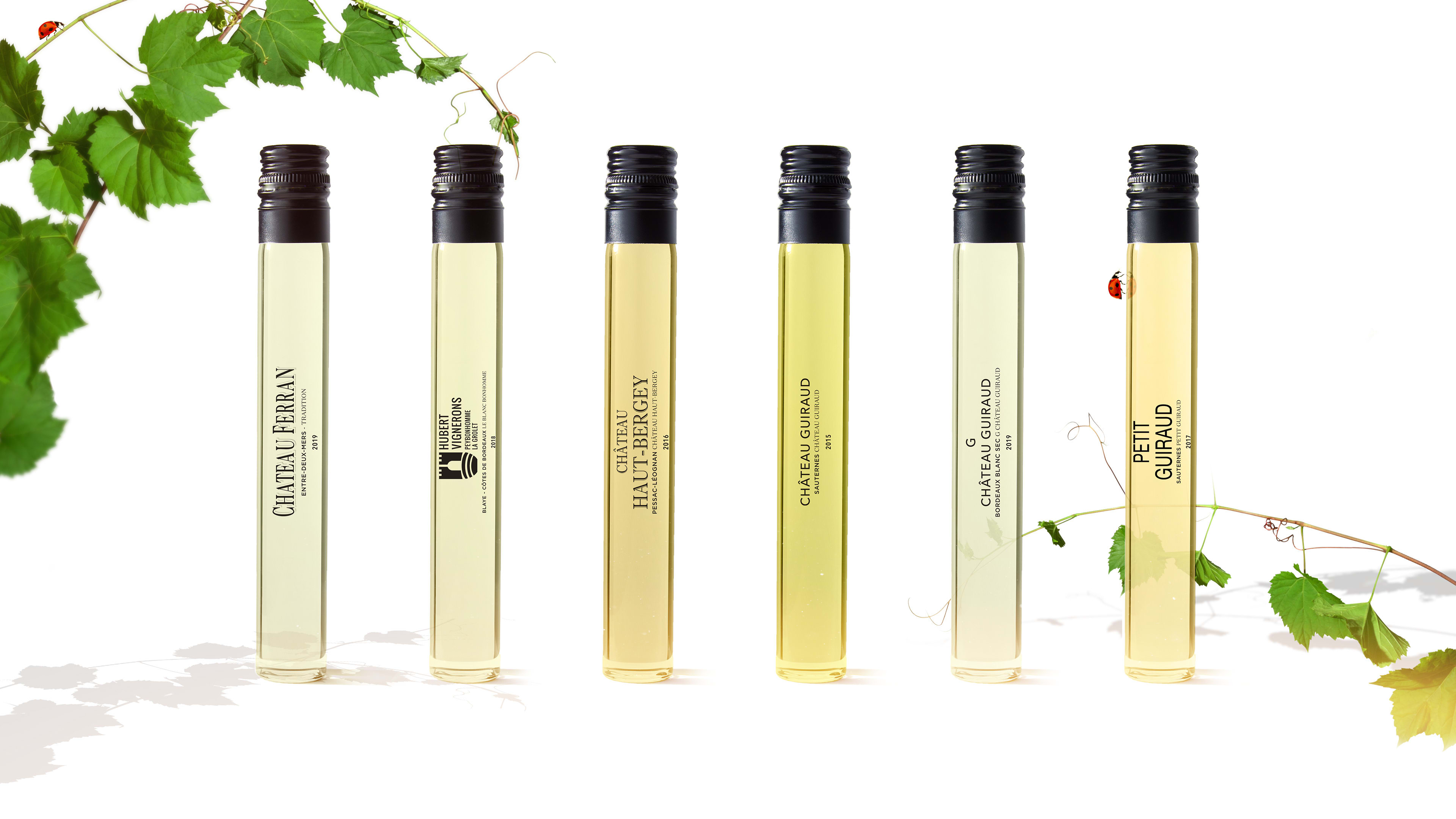 Tips & Tricks  /  Aug 3  /  BY Caroline Mercier
The Many Shades of White Wine
A critical first step in the tasting of any wine is to inspect its color. Don't even think about bringing the glass to your nose or lips without taking note of its shade, intensity of color, and sediment. Subtle differences in color can tell you a myriad of things, from the age of the wine to its sugar content and even its place of origin—and this is as true of white wines as it is of reds. 
While whites might appear to be the most homogenous of all wines, the category encompasses a sea of different styles and grape varieties. Does your white appear a little green? You might be drinking Sauvignon Blanc. Is the juice deep gold? There's a chance you're drinking a sweet wine like a Sauternes or Jurançon. Here's what to look for before you take your first sip. 
Clarity, Color, and Intensity 
To inspect your white like a pro, pour a little bit of wine into a glass (to let the light through more evenly), tip your glass forward against a white background like a napkin or tablecloth, and observe its color. Notice the subtleties of what's in your glass, including the sediment levels and the intensity of the color. Try to put a name to its exact shade—this will help you refine your ability to recall similar wines. 
The more saturated a wine's color, the more likely its taste will be rich and intense. Rieslings are usually quite pale, with airy and delicate flavors, while oaky Chardonnays are often deep yellow, with notes of vanilla and butterscotch and a creamy, buttery taste. 
Generally speaking, the longer a wine is aged in the barrel or in the bottle, the deeper its shade will be. This is because these vessels let in small amounts of oxygen, which in turn concentrates the color (think about what happens to the flesh of cut fruit when you leave it out on your counter). 
Know Your Grapes 
Another factor that can influence the wine's color is the grape variety. Pale yellow wines, which can sometimes even look green, are usually young wines from delicate grapes (Chenin Blanc, Sauvignon Blanc) not aged in oak. Their flavor profile tends to be crisp and fresh, with primary notes of citrus or fresh fruits and flowers. Wines that are golden-yellow typically indicate varieties like Chardonnay and Marsanne that are sometimes aged in oak, while a deep-golden or tawny wine might point to varieties like Sémillon and Rolle, which play a leading role in many of the world's best sweet wines. The noble rot (Botrytis fungus) that characterizes many of these wines not only concentrates the sugars in the grape, but also leads to a wine that's more intensely colored. 
Pale Yellow Wines 
Pinot Blanc: Pinot Blanc can mostly be found in the Alsace region, but also outside France in countries including Germany, Austria, and Canada, thanks to its high tolerance for freezing winters. If you want to discover this lesser-known variety, grab a bottle of Marc Kreydenweiss's Kritt Pinot Blanc, a vibrant and fruity dry white wine.
Chenin Blanc: Hailing from the Loire region, this grape is responsible for some of the region's best dry and sweet white wines. It is also used in the vinification of Crémant. To test it out, shop this bottle from one of the region's top winemakers, La Grange Tiphaine. Its floral and slightly spicy notes will instantly win you over. 
Sauvignon Blanc: Sauvignon Blanc is one of the most-planted grape varieties on the planet. In France, it is mainly cultivated in the Loire region, specifically in the Sancerre appellation. One of its most emblematic producers is Vincent Pinard, whose Sancerre le Chêne Marchand is a mineral and perfectly balanced sauvignon.
Pinot Grigio, Muscadet, and Vinho Verde are also very light yellow wines.
Gold-Yellow Wines
Chardonnay: The most common white wine grape varietal in the world, Chardonnay wines can vary greatly depending on the climate and the type of soil they're planted in. In France, the most famous region for Chardonnay is Burgundy. Try out this fantastic Meursault from Domaine Rougeot or this Chablis from Domaine Corinne et Jean-Pierre Grossot. Chardonnay is one of the three main grapes of Champagne, which explains its golden yellow hues. 
Gewurztraminer, Macabeo, Marsanne and Roussanne also fall in this category.
Deep Gold Wines:
Sémillon: This grape varietal is mostly used in Bordeaux white wines. Give it a spin by sampling this floral and full-bodied wine from Château Haut-Bergey.
Rolle: This lesser-known grape variety is having a moment among winemakers in southern France. To experience it's deep golden hues and powerful taste, try out Domaine de la Begude's St Louis cuvée.
Curious for more?
Subscribe to our weekly editorial digest and get a curated mix of stories straight to your inbox.