Curious
It all starts with that first taste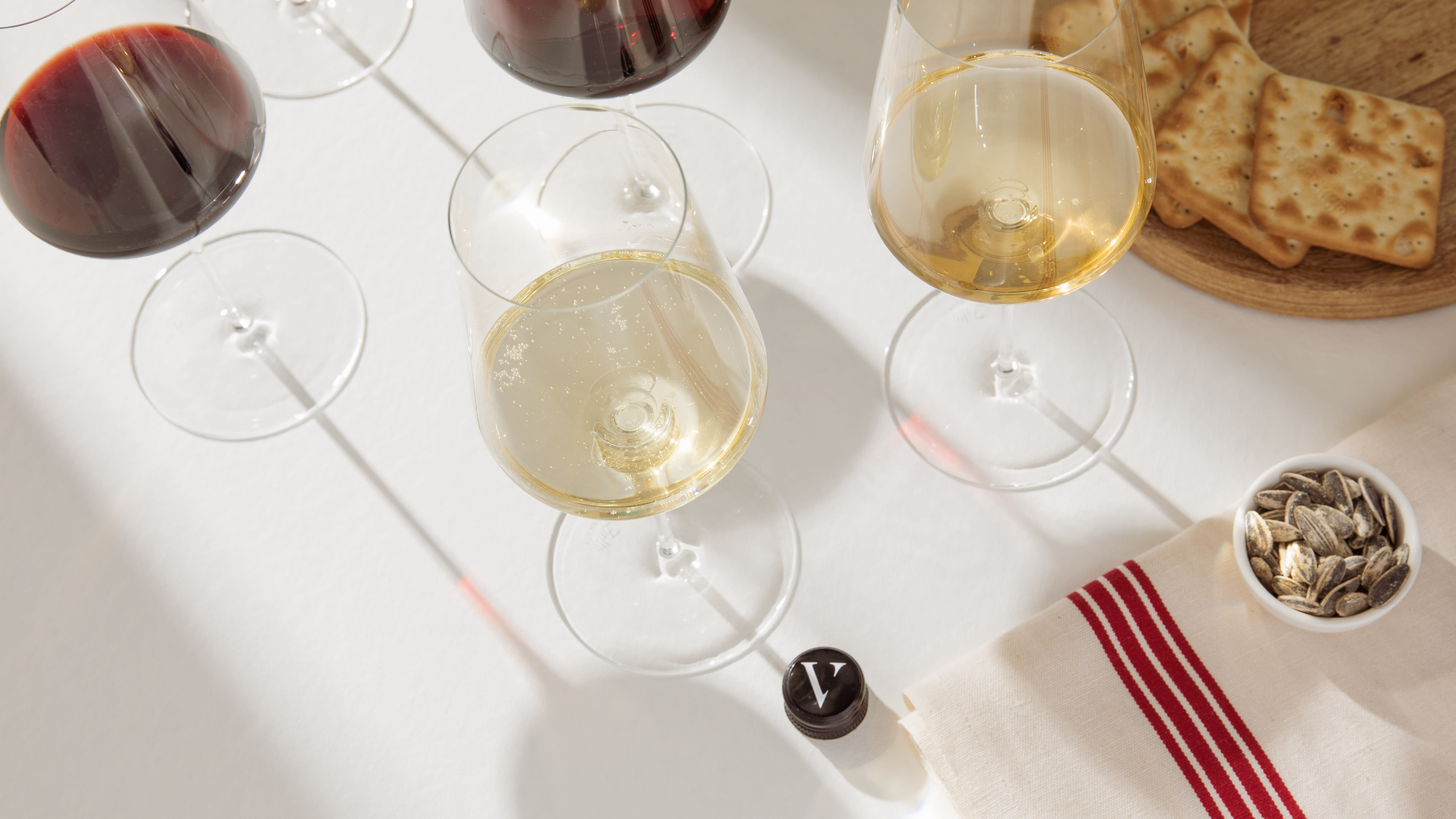 Tips & Tricks  /  May 7  /  BY Abbe Baker
Get to Know the Primary Styles of Wine
It's hard not to feel intimidated when you're just starting to learn about wine. From the countless regions and industry jargon to the hundreds of exotic-sounding varietals, the subject can seem elusive, but it shouldn't be. Wine is for everyone, after all—and our immersive Experiences are a great way to dive in.
Fortunately for beginners, nearly all the world's grape varieties (of which there are more than 10,000) fall into 9 major types of wine. Learn about these categories and you'll fast-track your knowledge of how most are produced, the world's most important grapes and wine-producing regions, plus gain a better idea of which types of wine you'll most enjoy. Read on. 
Sparkling
Everything's better with bubbles. What unites several of the major sparklers, like Champagne and Cava, is a time-intensive production method of secondary fermentation, where the wine undergoes another chemical reaction in a different vessel than the one used before. Champagnes are categorized according to the amount of residual sugar left after fermentation. Brut nature is the driest and least sweet of the bunch, while "doux" is on the other end of the spectrum, with at least 50 grams of residual sugar per liter. Lesser-known varieties to check out in this category include Lambrusco, a fizzy wine from Italy's Emilia-Romagna region (that comes in all colors), and Crémant, a style of sparkling that's made using the traditional method, but outside the region of Champagne. 
Light-bodied Whites
Crisp and zesty whites like Sauvignon Blanc, Muscadet, Soave, and Albariño are the porch-pounders of this group, perfect for hot summer days and best served alongside lighter seafood dishes and salads. And because these varieties are so widely available, there are plenty of great bottles for good value, like the Domaine Jo Landron Amphibolite 2019, a Muscadet priced at $21 per bottle. 
Full-bodied Whites
The term "full-bodied" implies meaty weight, rich texture, and heavy viscosity. Whites in this category, most notably Chardonnay, see a difference in production technique by way of oak-aging, which imparts richer fruit and broader texture. Other varieties found in this category include Viognier from southern France and Spanish white Rioja. Looking to add an organic Chardonnay to your collection? Check out Domaine Rougeot Pere & Fils Meursault Sous la Velle 2018, which has aromas of white flowers and white peaches. 
Sweet 
Don't knock this category 'til you try it — some of the oldest wine varietals like Riesling and Gewürtztraminer can be found here, dating back to as early as the 15th century. Other big names in the batch include Muscat Blanc, Sauternes and Chenin Blanc. 
Floral on the nose with delicate notes of orange blossom, rose, honey, and various dried fruits, these varieties are ideal pairing for desserts. VIVANT advisor Jordan Lynn Taylor recommends the Château Guiraud 2015 Sauternes to end the meal. 
Rosé
Everyone's favorite summer sipper is produced similarly to red wine, but with shorter skin contact time during the fermentation process or, similarly to white wine, using the direct press method. Made dry or sweet, rosé has seen a rise in popularity in recent years, in large part due to social media (#roséallday). Now, the wine is produced all over the globe, from Provence (the epicenter of rosé production) to Oregon, Germany, Spain, Austria, and beyond. 
Light-bodied Reds
Light-bodied reds such as Pinot Noir, Grenache, and Beaujolais (Gamay) tend to offer an aroma of delicate spices and bright berries. They're also lower in tannins, that natural compound found in grape skins, seeds, and stems, so you'll get less of that drying sensation in your mouth. A type of wine we love in this category is Domaine Antoine Lienhardt's Bourgogne Pinot Noir 2018, a smooth, silky red with juicy red fruits, delicate floral sweetness, and warm spices on the nose. 
Medium-bodied Reds
With a bouquet of ripe red fruits, licorice, and earthy spices, medium-bodied reds are delicious any time of the year, but particularly in the cooler months. They also pair brilliantly with a variety of different comfort foods. In this category, there are options galore: Grenache, Merlot, Cabernet Franc, Nebbiolo, Sangiovese, Carmènére, Valpolicella, and Tempranillo. 
If you're looking for a great medium-bodied red to accompany your dinner tonight, we recommend Domaine Frédéric Mabileau Racines 2016, a biodynamic Cabernet Franc from the Loire Valley. 
Full-bodied Reds
Heavy on the tannins, full-bodied reds including big, bold Cabernet Sauvignon, Zinfandel, Shiraz, and Merlot are what people typically get the most excited for, as they all offer up notes of dark, jammy fruits, spices and leather on the nose.
The Château Haut-Bages Libéral 2016 is an excellent example of a full-bodied red. Made from a blend of Cabernet Sauvignon and Merlot, this wine presents red and blackberries and gunflint on the palate. 
Now that you've learned about the 9 primary types of wine, all that's left for you to do is practice—so uncork a couple bottles and put your taste buds to work! Our interactive Experiences allow you to discover biodynamic and organic wines from these key styles while honing your palate and traveling to some of the world's top wine-growing regions.
Curious for more?
Subscribe to our weekly editorial digest and get a curated mix of stories straight to your inbox.