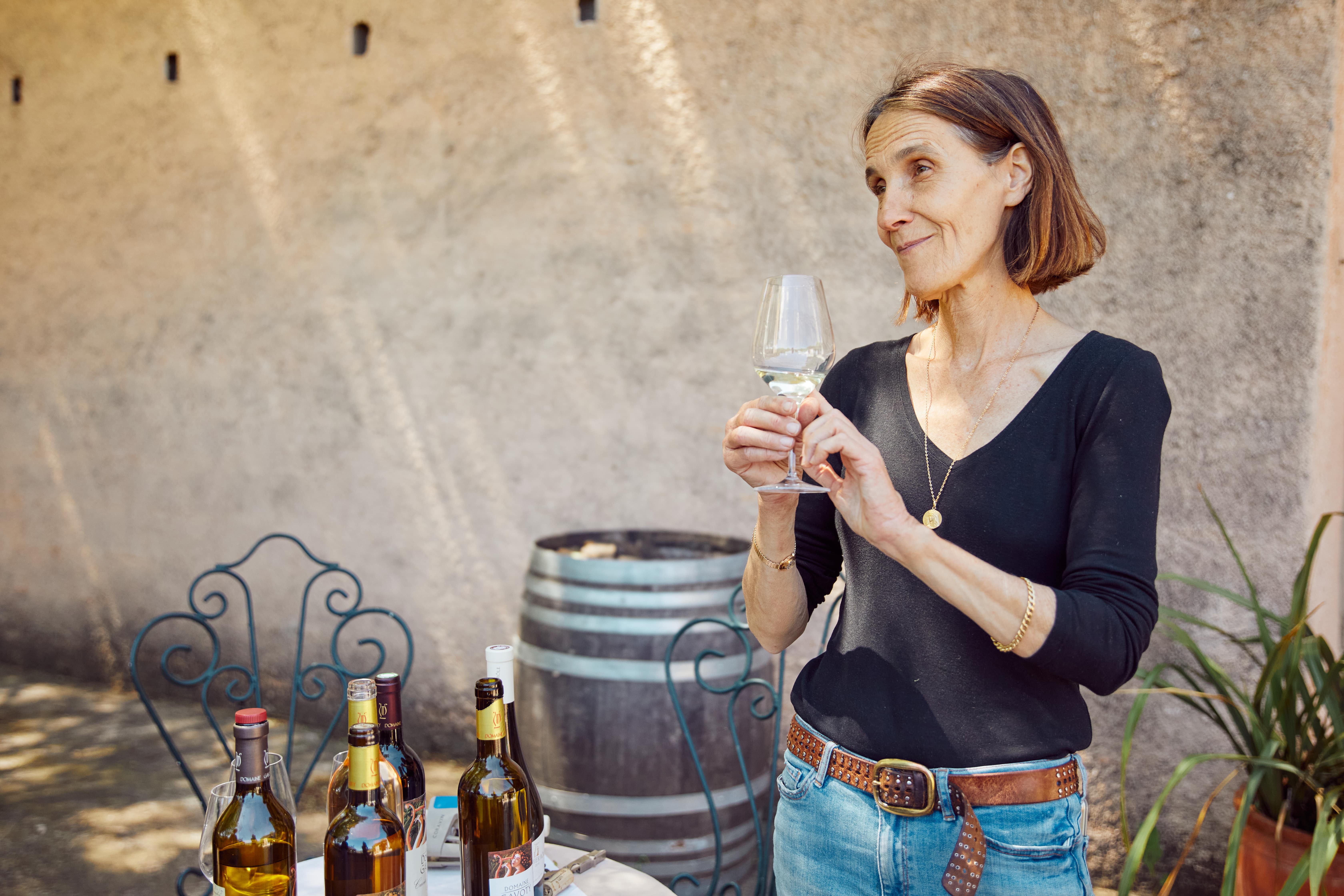 It's Friday night, you've made it through an intense workweek and scored a table at the coolest restaurant in town with your favorite folks as dining companions. You've not only been aching to try the chef's creative dishes, but you've heard their wine list is home to unheard-of gems and bottles that rarely leave their zip codes.
As thrilling as it is to navigate a maze-like wine list, it can also be anxiety-inducing. This is especially true if you've assumed the role of Taster in Chief: the person who takes the lead on ordering wine, inspecting the bottle when it arrives at the table, and taking the first sip while the sommelier stands there expectantly—a ritual that can leave your fellow diners with a serious case of second-hand embarrassment.
Fear not, we're here to help navigate the wine-ordering rituals and provide some etiquette tips along the way. Read on for our top pointers on how to taste wine in a restaurant.
Designate the Driver
If you've been dubbed Taster in Chief, the first step is to poll the group to determine what everyone is craving. Get on the same page about food moods and imbibing grooves. If the group is thirsty, figure out whether everyone wants to order multiples of the same bottle or taste a variety of regions and grapes. If there are disagreements, be democratic and take everyone's preferences into consideration when the sommelier comes around.
Know Thy Tastes
Choosing a bottle can be overwhelming. Our advice: start with what you know and like. What notes, grapes, regions and vintners do you generally gravitate towards? Strike up a friendly conversation with the somm, suss out his or her wine personality, and reveal yours, too. By sharing your taste inclinations, you'll be able to contextualize the preferences of the somm and get a better sense for the wines you're unfamiliar with. Unlike an undercooked steak or vermouth-heavy martini, you can't send back a bottle of wine (unless there's a noticeable flaw like cork taint or excessive brett). So it's important to gather as much intel as you can—on tasting notes, food pairings, tannin levels, etc.—so you can make an informed choice.
Read the Fine Print
When the bottle arrives at your table, don't just wave the waitstaff away and let them pour the first taste—that's a big no-no. Always, always inspect the label. We're not out here accusing anyone of shady sommelier-ing (yes, we just made that word up!), but we've heard horror stories about restaurants swapping bottles to either upsell the diner or due to inventory issues. Make sure the wine you ordered is the wine you receive and speak up if you don't. Often, it's an honest mistake when you're presented with a 2005, not a 2002, but in the end, you'll be charged for what you drank—not what you were supposed to drink.
Swirl, Sniff, and Sip
Once you've inspected the bottle, the next step is to actually taste the wine. As the juice is poured into the glass, begin to observe its color, which can provide clues about the wine's profile. Hold a wine against a white tablecloth or a light source and inspect its clarity, color, and intensity.
Next up: swirling the wine. Think that swirling of the glass is just pageantry and theater? Think again. The swirl serves a few functions. It aerates the wine to express its tasting notes and allows you to look for pieces of cork or anything else that's floating around in the bottle.
The old rule used to be: swirl with the glass's base on the table (literally, moving the base of the glass in a circle on the table) and, not with a raised hand. However, especially with the latest pencil-thin aerating stemware, the ol' table trick might cause injury or stains, so just move the glass in a way that feels natural and promotes the whooshing of the wine around the sides of the glass basin. No need to engage the centrifugal force here.
Before you sip, smell. Get your nose just inside the glass and take a deep breath. A dear collector with a 5,000-bottle plus cellar recently told us that most people forget to smell the wine when tasting. To him, "tasting is about the nose, not the tongue." For more expert-backed tips on how to taste wine, click here.
Now it's time to take the first sip. Before you dive in, remember that the point of the first taste is not to determine whether you like the wine—it's to make sure there's nothing glaringly wrong with the bottle. Every restaurant has different rules when it comes to the grounds for sending back a wine, and you don't want to be caught in a situation where you're stuck with a faulty wine—so be serious about that first sip!
On your inhale, take a modest-but-healthy-sized sip (not a gulp). Let the wine sit on your tongue for a second before moving it around in your mouth, then swallow when you no longer experience new layers. Perhaps you've heard to take another breath while the wine is sitting on your tongue, but remember, the first sip in a restaurant—not a wine-tasting—is to check for corkage. No need to show off your advanced Prana breath techniques here at the horror of your guests. A corked wine is a bit like rotten meat—you'll instinctively know something's off if the wine smells or tastes moldy, musty, flat or vinegar-y. Do not let a restaurant persuade you with "that's just how it's supposed to be."
Now that you've used your five senses, you've survived the wine tasting performance. It wasn't that bad, was it? For more tips on tasting wine and honing your palate, save your spot in an Experience.