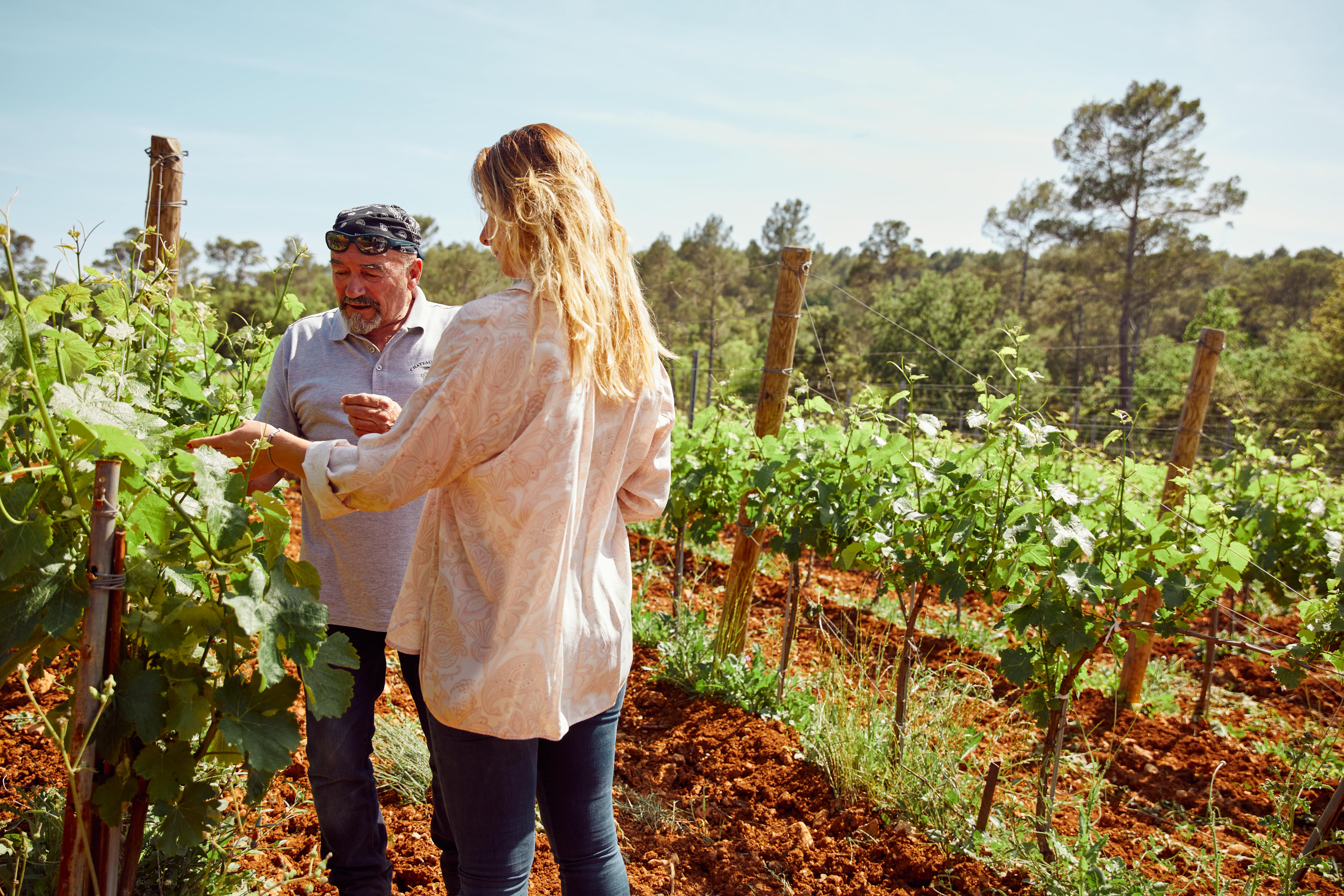 If you're a serious sipper, you've probably already memorized the so-called noble grapes and had your fill of Cabernet Sauvignon and Chardonnay. To take your wine IQ to the next level, consider expanding your palate to include lesser-known and "forgotten" French grape varieties such as Tibouren and Aligoté. These rare, indigenous grapes are making a comeback thanks to committed producers like VIVANT's Château Roubine and Domaine Josmeyer, who see the value in reviving forgotten flavors. So make room in your cellar and get ready to take a few notes.
Red Varieties
Tibouren
One of the often forgotten grape varieties used in both red and rosé wines is Tibouren. The black-skinned grape—which is mainly cultivated in Provence and in the Liguria region of Italy—produces full-bodied wines with earthy bouquets. The variety gets its herbal character from the fragrant wild herbs known as garrigue that grow along the Mediterranean coast.
Tibouren is not widely cultivated because it has a reputation for being difficult to grow and susceptible to coulure, which is the failure of a grape to develop after flowering.
Often, you'll find Tibouren blended with Cinsault and Grenache in rosé wines, but some producers specialize in Tibouren-dominant wines, like VIVANT partner Château Roubine. Their Rosé Inspire 2020 is a blend of 70% Tibouren, 20% Mourvèdre, and 10% Rolle. This Tibouren bursts with aromas of citrus and white flowers and has a long, muscular finish.
Mourvèdre
Another lesser-known varietal used in some rosés is Mourvèdre (also known as Monastrell), which produces tannic, high-alcohol wines. In Spain, where the variety originated, it is cultivated in 150,000 acres, whereas in France it covers only 25,000 acres in the regions of Bandol and the Rhône Valley. 
Mourvèdre is a finicky grape to grow, as it requires a hot climate but plentiful irrigation—hence its reputation as the grape that likes to have "its head in the sun and its feet in water." 
It is mainly found in GSM (Grenache-Cinsault-Mourvèdre) rosé blends, but you can find Mourvèdre-led wines, like Domaine de la Bégude's Red 2015, which is 90% Mourvèdre and 10% Grenache Noir. This Bandol red has the characteristic earthiness and aromas of black fruits of Mourvèdre and pairs best with heavier flavors, like barbecue, roasted meats, and olives. Which brings us to another lesser-known red variety that produces excellent gastronomic wines…
Carignan
Carignan is grown worldwide but it is planted most widely in Southern France, particularly in Languedoc-Roussillon, where it is a major blending grape. Carignan has long been considered a lower-quality variety and is quite affordable as a result. However, when carefully cultivated, it can produce outstanding medium-bodied reds with vibrant red fruit aromas.
Several of our partner's rosés include these lesser-known grape varieties including Mas de la Dame Rosé du Mas 2020, which is a blend of 72% Grenache Noir, 13% Cinsault, 5% Carignan, 3% Syrah, 4% Mourvèdre, and 3% Cabernet Sauvignon. Blending several varieties, especially when some grapes are harder to cultivate, ensures the production of a balanced and complex wine.
White Varieties
Aligoté
A highly acidic white grape, Aligoté is the second most widely planted grape in Burgundy after Chardonnay. However, it covers less than four times the land of Chardonnay, which spans over 32,000 acres in the region. Aligoté and Chardonnay were once interplanted in the region, but have since been separated, and Aligoté is distinctive with its higher acidity and slight herbaceousness. Bourgogne Aligoté Les Plumes 2019 from our partner Domaine Rougeot Père & Fils is a delicious and intense floral example of Aligoté, bursting with mineral notes from Burgundy's limestone soils.
How did Aligoté fall out of popularity? The answer will fascinate wine history buffs. When phylloxera wiped out the vineyards of Burgundy during the 19th century, the widely planted Aligoté vines were destroyed and ceded their place to the American vine transplants of Pinot Noir and Chardonnay.
Auxerrois
Auxerrois Blanc, Pinot Auxerrois, and Auxerrois Blanc de Laquenexy are all synonyms for this Alsatian white grape. It is a less-acidic version of Pinot Blanc, though it is often listed as "Pinot Blanc" on most wine labels, which is allowed under the AOC Alsace Wine Appellation. Auxerrois is planted in many countries outside of France including Luxembourg, Austria, Germany, and Italy. It especially thrives in Alsace and Luxembourg, however, due to their cool climates.
As the third-most planted grape in Alsace, it's surprising that Auxerrois is still considered obscure. When compared with showstoppers like Riesling, Gewurztraminer, and Pinot Gris, however, Auxerrois doesn't inspire the same awe. This is because it takes an extraordinary amount of skill and attention to produce a delicious Auxerrois. Anything less, and it produces a flabby, unfocused wine. For this reason, it is often blended with other grapes and plays more of a supporting role in Alsace winemaking.
An exception is at Domaine Josmeyer, a producer that allows Auxerrois to really shine. Their Hengst plot is exclusively dedicated to Auxerrois, and you can taste the variety on its own in their Pinot Auxerrois "H" Vielles Vignes 2017. This wine is an excellent example of a balanced Auxerrois with aromas of white flowers, mirabelle plum, and fresh pear.
Hopefully this roundup of overlooked French grape varieties will inspire you to expand your knowledge of winemaking, and your own palate. The history of these forgotten varieties tells a fascinating story about how winemakers have adapted to environmental challenges throughout the centuries and why we enjoy the wines we drink today.