Curious
It all starts with that first taste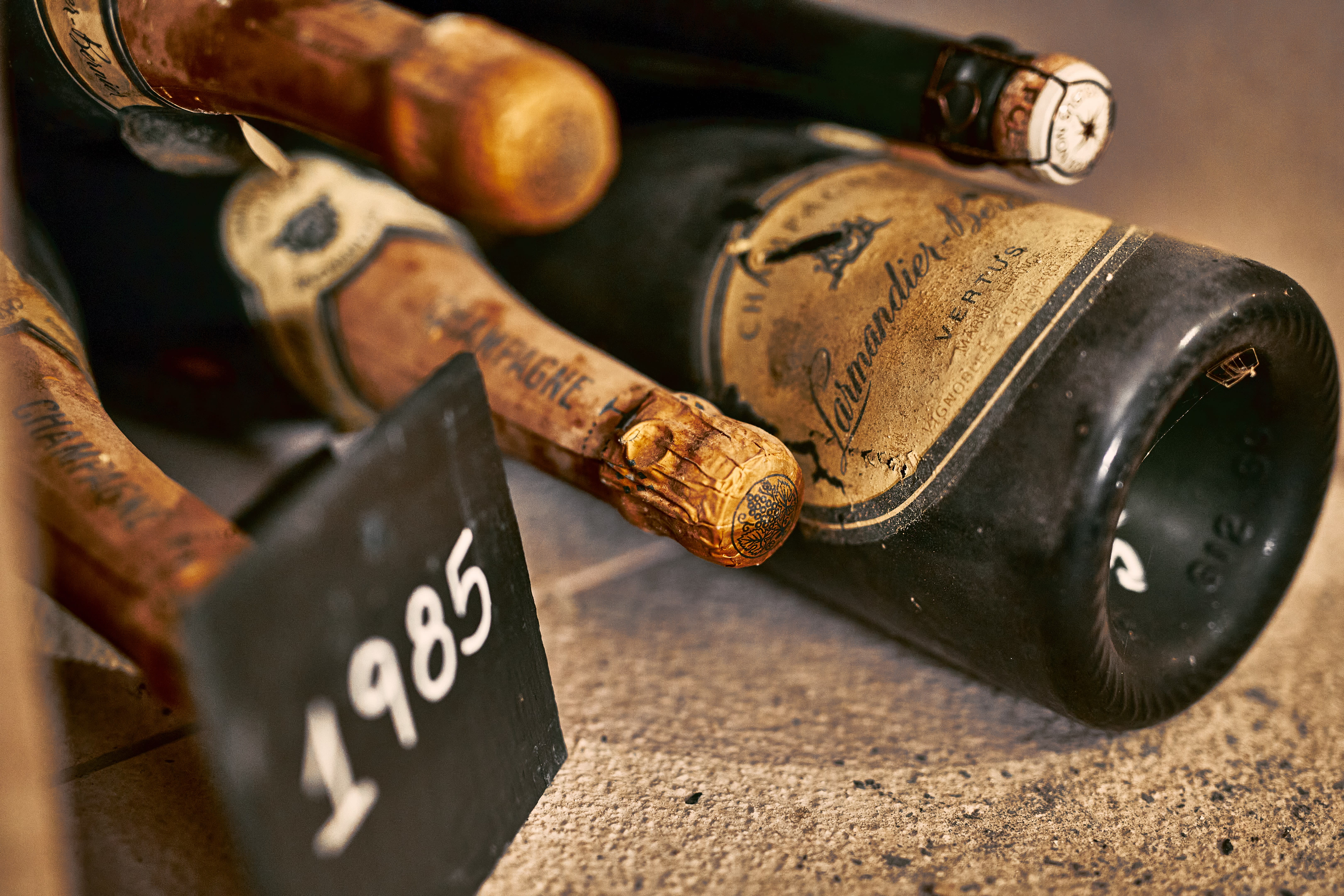 Personalities  /  Aug 11  /  BY VIVANT
The VIVANT team pick their historical wine favourites
What's the most cherished bottle in your collection? For many wine enthusiasts, it's a tough question to answer. People collect wine for all sorts of reasons—and value doesn't always correspond to the price of a bottle or how rare it is. We put the question to VIVANT team members.
"I love all my children equally but if I had to pick one special bottle, it'd be my 2008 Il Barone from Castello di Amorosa. My boyfriend and I visited the Napa Valley winery on my first-ever wine getaway in 2013. Arriving at the estate, a 13th-century Tuscan-style castle, I was blown away by the architecture. That afternoon, my boyfriend and I tasted the castello's incredible wine and fell in love—with the wine and each other. We brought a few bottles home and vowed to drink the wine at our wedding if we ever got married. Eight years later, I've still got my wine and my guy. Hopefully, I'll get to uncork the bottles soon."—Jordan Lynn Traylor, Wine Advisor
"When my grandparents passed away, they left behind a cellar full of treasures in Pernand-Vergelesses, France. One day while cleaning and organizing the cellar, I stumbled upon a hidden case of wine containing two bottles, one for each of their birth years: Château Coutet Haut Barsac 1929 and Château Coutet Sauternes 1934. I can't say if they're still good, but the bottles were perfectly stored. In December 2029, my family and I will open my grandfather's bottle in celebration of what would've been his 100th birthday. I hope that by tasting it, I can better understand him or at least his relationship with this particular bottle."—Daphné Delarue, Private Events Manager
"I have a 2016 Mullineaux Syrah that I bought when I got engaged. My fiancée and I are getting married in Portugal's Douro Valley next year, and my plan is to pop the bottle at a BYOB restaurant near our house the night before we leave."—Daniela DaSuta, Wine Advisor
"One of my most prized bottles is a 2009 Barolo from Giuseppe Rinaldi. I bought it a couple years ago at the Wine House in Los Angeles. As a child, I spent my summer vacations in Piedmont, Italy at my grandparents' house, so I'm very attached to the region. Old-school Barolos never fail to transport me there. I'm not good at waiting to open my bottles, but time and patience are a must for Barolo—so I know my willpower will be worth it!"—Claire Stein, Wine Advisor
"If I had to pick one special bottle, it would be my Taylor's 1985 Vintage Port. I bought this bottle during my first wine retail job. Our buying team was excellent at finding unusual, rare, and exciting bottles for us to sell over Christmas. One year, we got a case of Taylor's 1985. That's my birth year so I immediately decided that, if we hit our sales target, I would spend a portion of my Christmas bonus on a bottle. I'm planning to finally drink it with my family before my (now twice-postponed due to COVID) wedding!"— Matt Ayre, Wine Advisor
"Growing up, my grandfather would have me over for spaghetti dinner every Sunday night. He'd open a bottle of wine and regale me with stories. Before he passed away, I managed to get my hands on a 2000 vintage of Chateau Lafite Rothschild, his favorite producer. We shared it over a meal, and I keep a bottle in my collection in his name."—Brett Kelly, Director of People & Culture
My first real job in the wine industry was working at Château Climens in Barsac, France. During my time there, the estate's owner, Bérénice Lurton, gave me a bottle of the 2015 vintage. It was the first Crus Classé in my personal collection and I'm waiting for the perfect occasion to open it."—Camila Richard, Wine Partner Manager
Curious for more?
Subscribe to our weekly editorial digest and get a curated mix of stories straight to your inbox.