Curious
It all starts with that first taste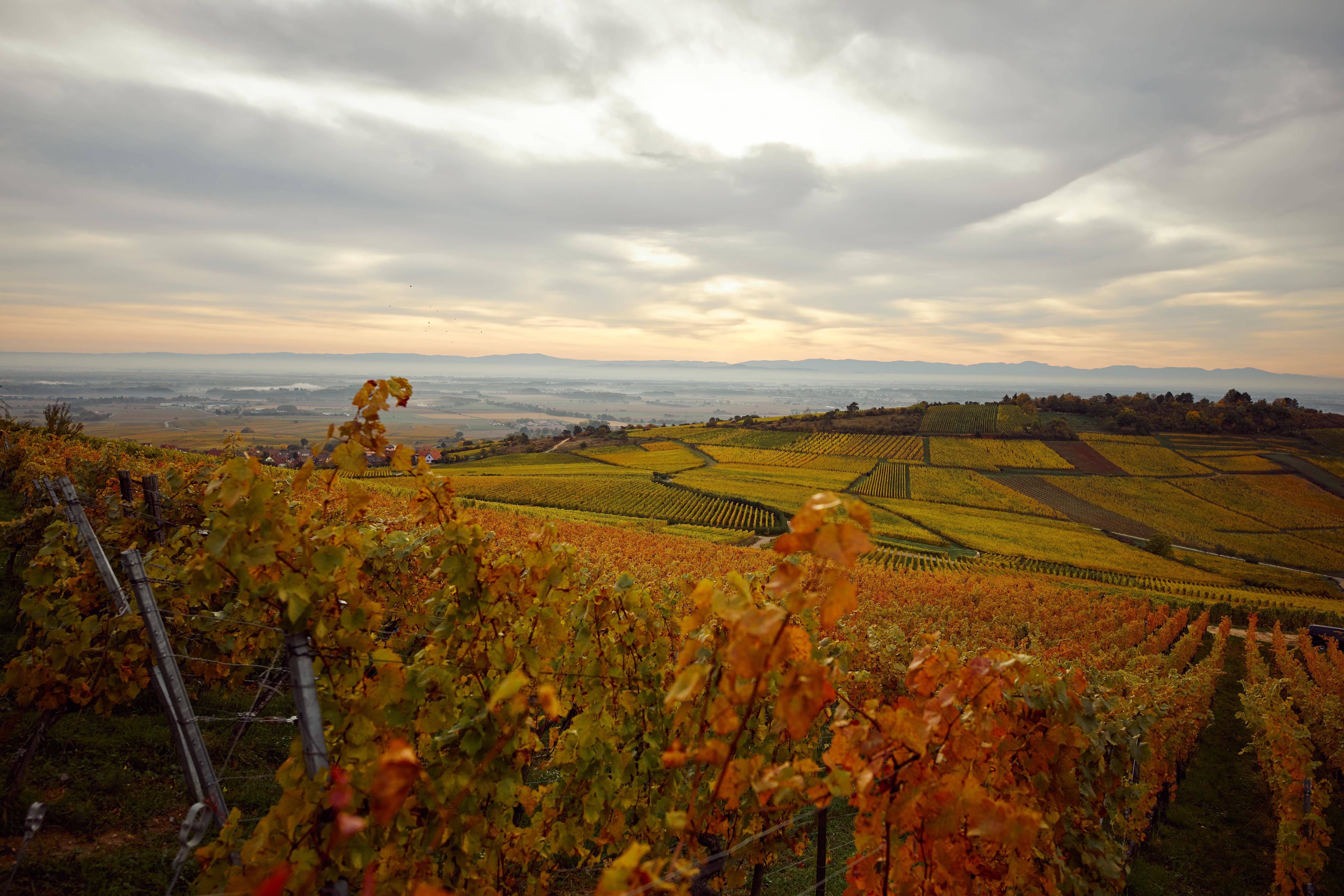 Food & Wine  /  May 14  /  BY Siobhan Reid
Why We Love Alsatian Wine
One of those wine world mysteries we can't wrap our heads around: why the wines of Alsace, in eastern France, have gone unnoticed (or at least insufficiently noticed) by a large portion of the drinking public. We're here to help you get with it.
Known for firm and aromatic Riesling, Gewurztraminer, Pinot Blanc and Pinot Gris, the under-appreciated region is home to some of the most terroir-obsessed producers on the planet, owing to its wide variety of soils and subsoils. The region is also a pioneer of biodynamics in French wine, with 6% of its vineyards certified biodynamic, and around 20% in organic. 
Alsace's singularity can also be attributed to its unique geopolitical status—since 1871 the region has been alternately claimed by France and Germany due to its location on the Franco-German border. As a result, the wine, like the food (coq au Riesling, anyone?), is an amalgam of influences. Alsatian wines are labeled by grape (an anomaly in appellation-driven France) and often come in long, tapered flute bottles, as is traditional in Germany. "We make wines for ourselves, that is how we work," says Alsatian producer Antoine Kreydenweiss in the Grand Cru, Terroir & Tradition in Alsace Experience. In celebration of the region, here are a few of our favorite bottles.
Josmeyer Riesling Les Pierrets 2016
This bright and complex Riesling features notes of lemongrass and verbena and takes its name from the French word "pierre" (stone), in reference to the variety's characteristic minerality. As is true of many of the region's whites, this one can be opened right away or aged a couple of years to reveal heightened complexity and more mature flavors.
Domaine Achillée Gewurztraminer 2018
Whereas most Guwurztraminer's showcase creamy notes of lychee, orange, and honey, this exotic bottle leads with flavors of rose, peanut, and spice. The result is a peppery bouquet that maintains purity and balance, and pairs wonderfully with spicy dishes like curries and fiery noodles.
Marc Kreydenweiss Clos du Val d'Eléon 2018
This biodynamic blend of Pinot Gris and Riesling has a voluminous mouthfeel and bright minerality, with a palate of white fruit. For the ultimate pairing, enjoy it with fish and other seafood on a hot summer's day.
Gustave Lorentz Pinot Noir Evidence 2018
Alsace may be known for its white varieties, but Pinot Noir, its sole red, is worth seeking out. This Alsatian Pinot Noir is reminiscent of red Burgundy, with soft tannins, refreshing acidity, a ruby color, and notes of cherries.
Vignoble des 2 Lunes Crémant Eclipse 2018
Three may be a crowd, but not in this delicious blend of Pinot Gris, Pinot Blanc, and Pinot Noir from estate Le Vignoble des 2 Lunes, run by sisters Cécile and Amélie. Dry and floral with fine bubbles, this crémant has a beautiful white gold color and aromas of citrus, toasted bread, acacia, and jasmine.
Curious for more?
Subscribe to our weekly editorial digest and get a curated mix of stories straight to your inbox.