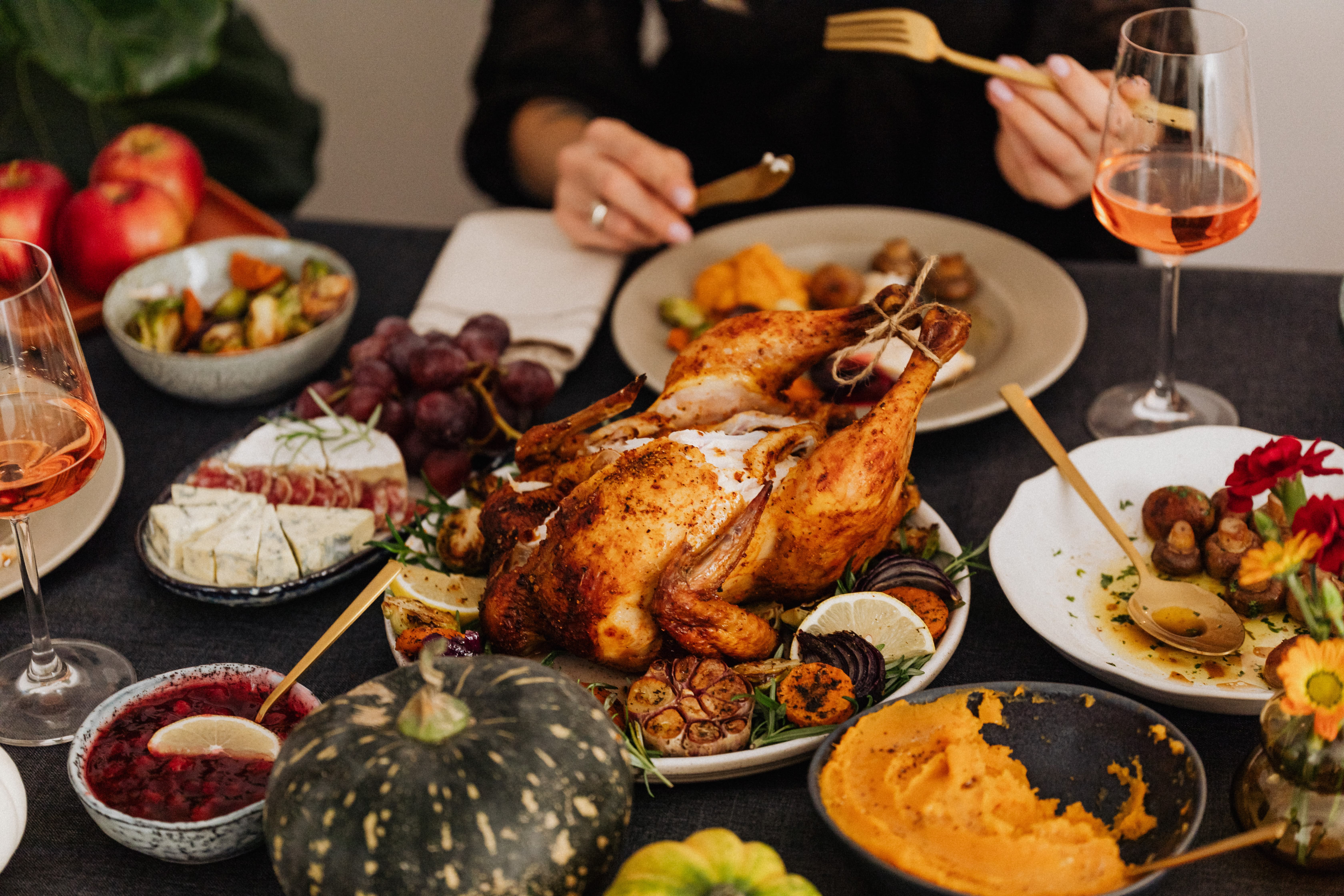 Fall is officially here—you can feel it in the crisp air and see it in the changing colors of the leaves and the arrival of colorful produce at your local farmer's market. For those who love to entertain, it's one of the best times of the year to bring together friends and family over meals that spotlight seasonal ingredients like mushrooms, apples, and butternut squashes. Of course, no celebration is complete without a great bottle of wine, so if you're planning a party, allow us to recommend a few wines to accompany the season's best flavors. Below, 7 of our favorite food and wine pairings for fall.
Wild Mushroom Risotto and Pinot Noir
Fall is for mushroom foraging. Roaming the woods with your family or friends, you may very well stumble upon varieties like wild oyster mushrooms and chanterelles (just make sure to pick them with the help of an expert to ensure a safe hunt). Whether incorporated into a savory pie or a creamy risotto, mushrooms go best with a light- to medium-bodied Pinot Noir; its oaky aromas and slightly spicy and lush flavor palate will enhance the mushroom's earthiness. Our go-to wine is Antoine Lienhardt's Bourgogne Pinot Noir 2018. Originating from the heart of Burgundy, the world's most famous region for Pinot Noir, Antoine Lienhardt is one of the region's best biodynamic winemakers. This wine's juiciness, slightly floral aromas, and nice spicy flavors will complement any mushroom dish. A must-try!
Roasted Brussel Sprouts and Sauvignon Blanc
Brussel sprouts are the comeback vegetable of the decade, and personally, we can't get enough. Whether you like them roasted, fried, or steamed, they're sure to win over even the pickiest of eaters—which is a godsend if you're planning a large family get-together for Thanksgiving or another fall holiday. Pair your Brussel sprout dish with a zesty, herbal Sauvignon Blanc like Château Peybonhomme-Les-Tours Le Blanc Bonhomme 2018. This biodynamic producer is known for producing subtle and harmonious wines, and this Sauvignon Blanc is no exception, with its delicious aromas of ripe stone fruits, its delicate flavors of elderflower, and its smooth and saline palate.
Fig and Goat Cheese Pizza and Pinot Gris
Fig and goat cheese is a pairing as perfect as it comes. There are a dozen ways to marry the flavors—in a salad, a tart, or on a simple pizza with lots of fresh arugula—as are there myriad wine pairings that will make these two ingredients sing. Among them: Prosecco, a medium-bodied red from Provence, or a juicy Gamay from Beaujolais. Personally, we love this fruity Pinot Gris, which comes from one of the best winemaking parcels of Alsace. With its generous flavor profile and long and smoky finish, it'll nicely balance the fig's sweetness.
Roast Turkey and Pinot Noir
The fall season is synonymous with the holidays. And with Thanksgiving just around the corner, it's time to figure out which wines to serve at your big celebration. If you're cooking roast turkey, we suggest steering clear of a classical Burgundy in favor of a light to medium-bodied wine whose flavors won't steal the show. We plan to pour this exotic Pinot Noir from the Loire Valley. It's bold yet elegant and won't overpower the flavors of the meat.
Butternut Squash Soup and a Mineral Chablis
Creamy, satisfying, and full of nourishing goodness, butternut squash soup is a staple for fall. As for wine pairings, try it with a fresh and floral white, such as Viognier or even a nutty and zesty Chardonnay. Our pick? Domaine Grossot's Chablis Premier Cru Vaucoupin 2018, an exquisitely balanced 100% Chardonnay from the Chablis region, which is known for its mineral-rich Kimmeridgian soil. The citrus notes in this vibrant and fruity biodynamic Chardonnay will enliven the warm soup.
Sheet Pan-Roasted Chicken with Root Vegetables and a Southern French Red
It's hearty, it's flavor-filled, and you can cook it all on one baking sheet—has there ever been a more perfect dish than sheet pan-roasted chicken with root veggies? We recommend elevating the simple dish with the 2018 Red from Domaine de la Bégude. A blend of Mourvèdre and Grenache Noir, it brims with herbal flavors and notes of black fruits and has a slightly oaky aftertaste.
Apple Pie and Gewurztraminer
What better way to end this list than with everyone's favorite fall dessert: apple pie. While apples are available year-round, they reach their peak at the end of summer and fall months.  To round out the pie's sweetness, pour a glass of Vignoble des 2 lune's Gewurztraminer Amélier 2016. This golden-yellow wine balances sweet lychee flavors with warming spices. This elegant wine will end your dinner in style.
Curious for more?
Subscribe to our weekly editorial digest and get a curated mix of stories straight to your inbox.