Curious
It all starts with that first taste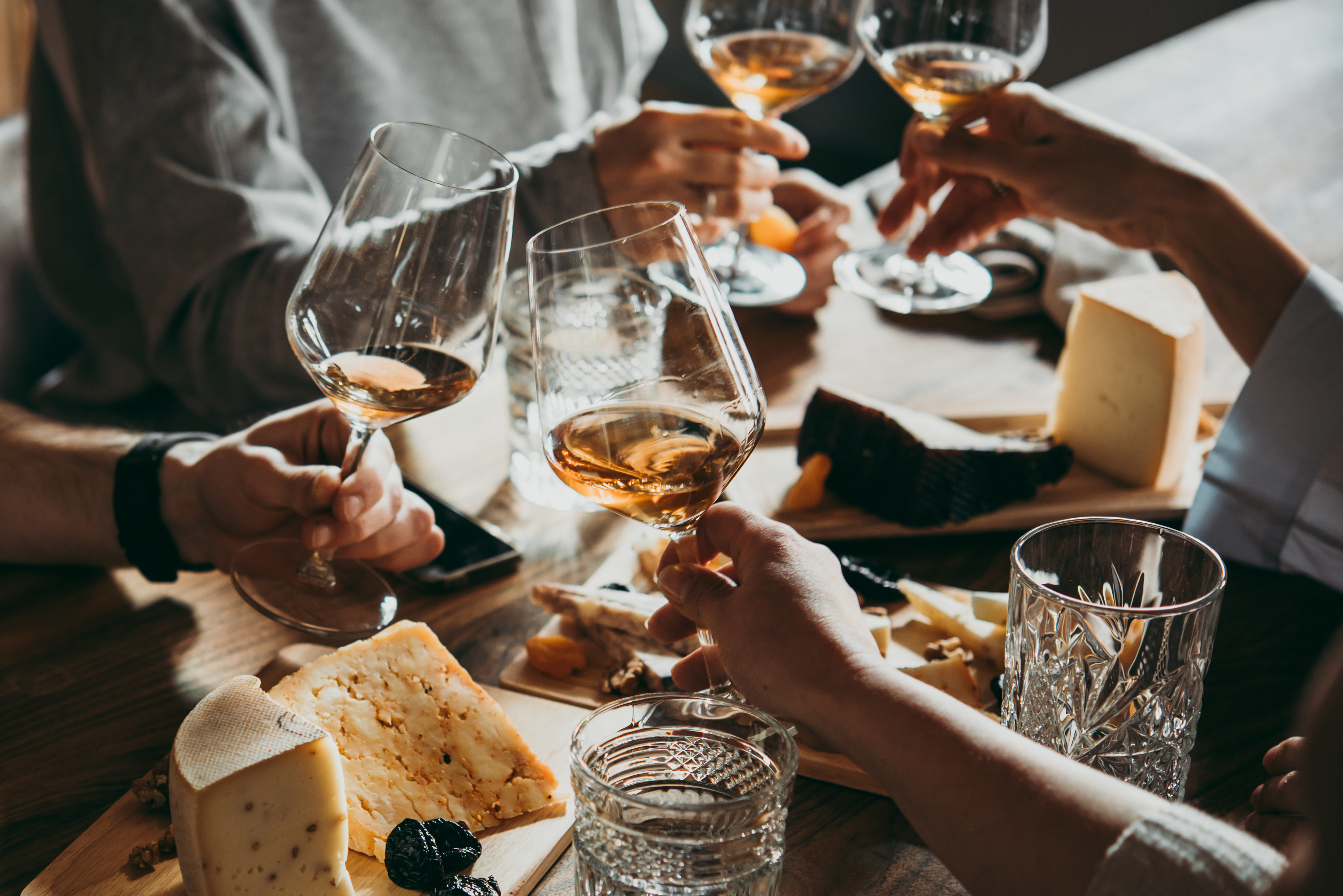 Food & Wine  /  May 28  /  BY Siobhan Reid
What to Know About Orange Wine
The adage "what's old is new again" holds true when it comes to orange wine. The ancient wine style is trending after dipping into relative obscurity over the past century. And while its color, which can range from yellow and pink to amber, is the style's most distinguishing feature, there are other reasons to love it—from its broad flavors and exotic perfumes to its season-spanning appeal. Here's what to know about the in-vogue wine. 
What's in a Name
First things first: orange wine is actually white wine that is produced more like red wine, with prolonged maceration of crushed grape skins and seeds. So, the term "orange wine"—which was coined in 2004 by British wine importer David Harvey— is a bit misleading. A more accurate way of describing the genre would be "skin-contact white wine" (more on that later).
History 
Today, there are more than 700 orange wine producers around the world. But the style has a particular stronghold in Eastern Europe, especially in Greece and the Republic of Georgia, which have long traditions of making orange wine. Historically, these wines were fermented in underground vessels called Qvevri (conical-shaped clay amphorae) that were sealed with beeswax and covered with stones to keep the wine cool over many months.  
Slovenia, too, has a long history of orange winemaking. Which is perhaps why neighboring country Italy is one of the major producers of orange wines today, with the majority grown in the northeastern region of Friuli-Venezia Giulia, which straddles the Slovenian border. 
How it's Made
The technique for making orange wine is similar to that of red wine, where the juice is macerated with the skins and seeds for up to a year. The distinctive color of orange wine comes from the flavonoids on the skins of the grapes. The prolonged maceration is also why orange wines have tannins and a body that's more similar in profile to red wine. Riobolla gialla, one of the indigenous grapes of Italy's Friuli-Venezia Giulia region, is ideal for orange wine, thanks to its thick, flavor-packed skins. 
Sustainable Orange Wines 
The variability of orange wines, as well as their often-cloudy appearance and funky flavors, may lead some people to believe that all orange wines are made using sustainable processes. And while it's true that you're more likely to find orange wines in a natural wine store, it's not always the case that these producers embrace organic and biodynamic techniques. 
To indulge in the "trend" in a sustainable way, we can hook you up with a few of our favorites.
Domaine Philippe Gilbert Hors Sujet 2018
This Sauvignon Blanc has been vinified in an earthenware jar for 8 months, a fermentation process that gives it a bright orange color, spicy nose, and atypical tannic structure. 
Domaine du Bouchot Orange 2018
One of the draws of orange wines is its versatility with food. This Sauvignon Blanc from the Loire Valley has an intense palate with exotic notes, a long finish, and refreshing acidity—making it the perfect companion for a cheese plate, spicy dishes, shellfish, and pork. 
Marc Kreydenweiss Pinot Gris Grand Cru Moenchberg 2017
Fine tannins give this salmon-hued Pinot Gris great aging potential. Elegant and crisp, it has a splash of pear and apple, followed by a long finish.
Diane Carpentier contributed to this report.
Curious for more?
Subscribe to our weekly editorial digest and get a curated mix of stories straight to your inbox.