Curious
It all starts with that first taste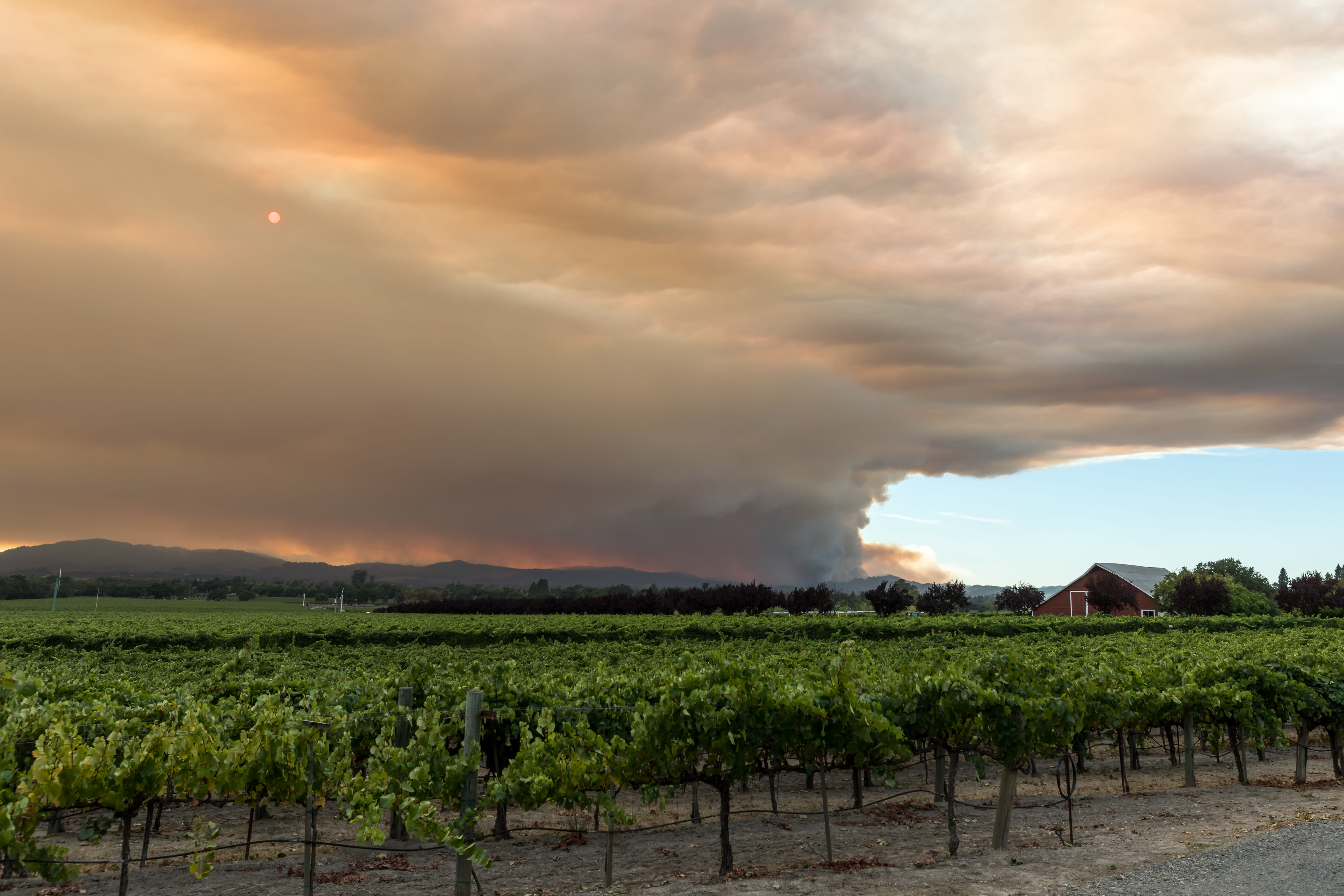 News  /  Aug 5  /  BY Zachary Baum
How Wildfires Have Endangered the Wine Industry
Over the past month, wildfires have ravaged the Western United States and Canada and parts of Southern Europe. Fanned by brutal heat waves and strong winds, these deadly blazes mark a turning point in the global wildfire crisis. 
In California, this year's fires have scorched more than three times more land than the 2020 wildfires. Winemakers—many of whom are still reeling from last year's fire season—are taking desperate, extreme measures to salvage their vines. 
Climate change is one of several main drivers of these disastrous fires. Rising temperatures, a key indicator of a changing climate, leads to drier conditions and more protracted wildfire seasons (on average, these fires last 3.5 months longer than they did a few decades ago). Fire suppression is another cause. In California, where people increasingly live in areas near forests, the suppression of fires has been taking place for nearly 100 years. Regular fires are necessary in the removal of dead or overgrown vegetation. So when powerful fires rip through forested areas, the blazes burn hotter and cause greater damage, even bringing down old-growth forests. 
Scorched landscapes may be the most visible sign of destruction, but the damage below ground reveals the full extent of the devastation. 
In 2002, the Biscuit Fire burned roughly 500,000 acres in the Rogue River–Siskiyou National Forest in Southern Oregon and Northern California. In the coastal part of the forest, the fire led to a loss of 10 tons of carbon per acre, 450 to 620 pounds of nitrogen per acre, and combustion of organic matter in the topsoil. Water retention also dramatically declined, leading to surface runoff and leaching. These effects can persist for decades. 
For winemakers, soil health is paramount. Healthy soil nourishes the plant, reinforcing vines and delivering nutrients to the grapes. 
What can winemakers do to mitigate the effects of these ravenous fires on the soil?
For winemaker Claire Villars-Lurton, the importance of biodynamic farming cannot be overstated. Together with her husband, Gonzague Lurton, she co-owns five wineries in France and California, including Château Haut-Bages Libéral in Bordeaux and Sonoma County's Acaibo. 
In 2019, nearly half of the vines at Acaibo were wiped out during the historic Kincade Fire. It's possible that the damage would've been much worse if the vines weren't so resilient—the result of sustainable farming practices like the use of crop covers, which provide nitrogen, manage weeds, and protect the soil. The winery is also surrounded by a forest that serves as a natural buffer. 
Following the fire, Villars-Lurton observed a resurgence of wildflowers, grasses, and insects. She also noted that the vines that suffered the most damage were the weaker ones. 
While all crops are vulnerable to fires, it's believed that biodynamic and organic farms have a natural resilience to natural disasters, as the vines haven't been weakened by herbicides and fertilizers. In the face of a warming climate, these sustainable farming techniques are one of the best defenses that growers have against the fires.
Curious for more?
Subscribe to our weekly editorial digest and get a curated mix of stories straight to your inbox.