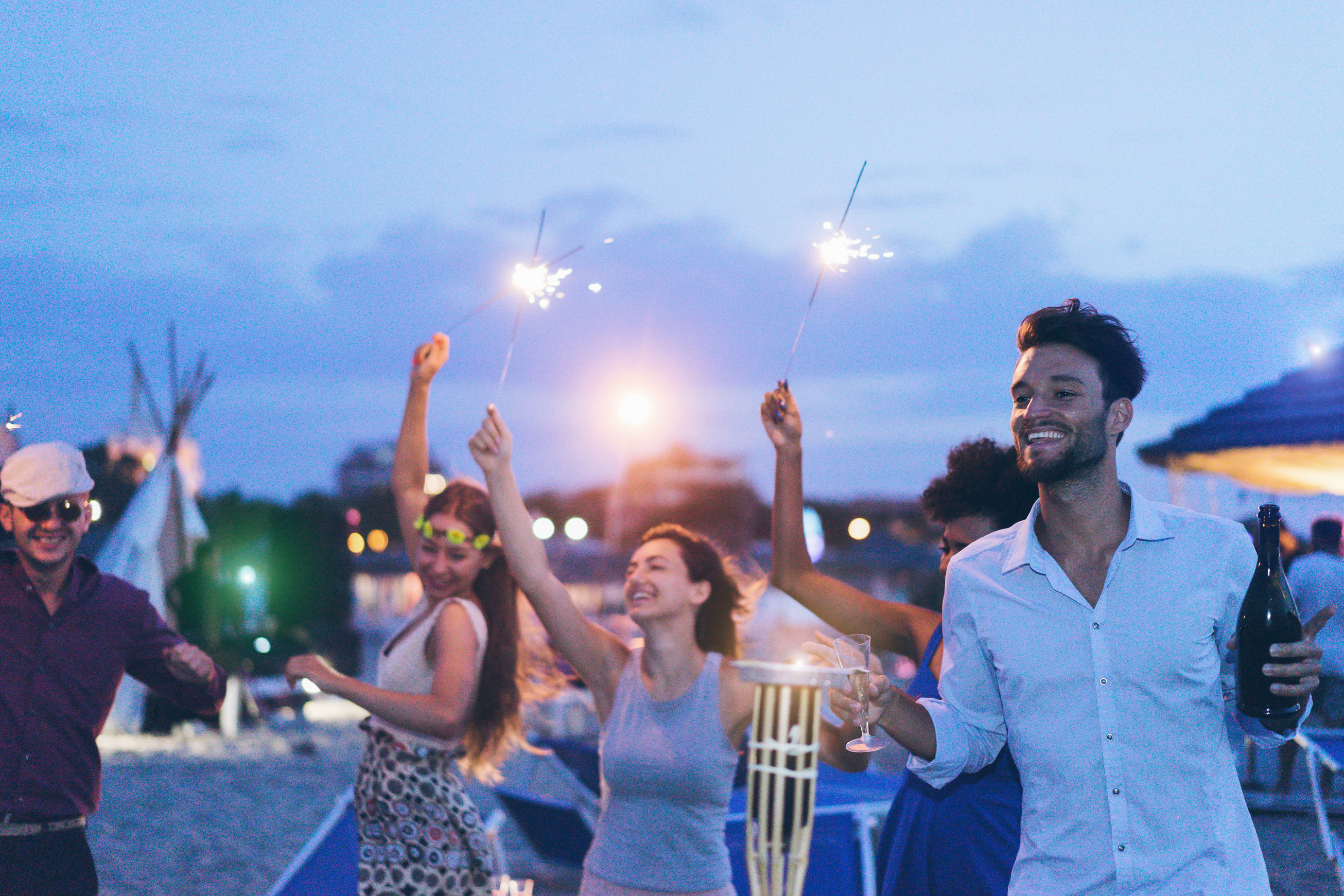 Summer is nearly here, and we're ready to celebrate. This time of year evokes sandy beaches, outdoor music festivals, backyard BBQs, and late nights around the campfire. How to make the most of the season's top moments? With a glass of wine and a killer playlist, of course. Here's a soundtrack of our favorite summer vibes, plus a selection of wines to enjoy with them.
"Texas Sun" by Khruangbin and Leon Bridges
VIVANT Wine Advisor Claire Stein recommends pairing Leon Bridges' mellow, sun-soaked track with a Chardonnay like Domaine Pommier Les Reinettes 2018. "I love the chill vibes of this song," she says. "And this pleasant Chablis takes the relaxation to the next level."
Get her pick: Domaine Isabelle & Denis Pommier Chablis Les Reinettes 2018
"Feeling Good" by Nina Simone
The ultimate feel-good anthem deserves a feel-good wine—like this punchy red from Burgundy producer Antoine Lienhardt, as recommended by VIVANT Partner Manager Diane Carpentier. "This wine is accessible and cheerful," she says. "It makes all wine lovers happy!"
Get her pick: Domaine Antoine Lienhardt Emphase 2018
"Me Maten" by C. Tagana and Antonio Carmona
"This track makes me daydream of long, leisurely lunches in Spain or anywhere in Europe, really," says Editorial Content Manager, Siobhan Reid (who brings you all the great reads here on Curious!). It also makes her crave a glass of this juicy Bordeaux blend from Château Grand Corbin-Despagne.
Get her pick: Château Grand Corbin-Despagne 2011
"Amor I Love You" by Marisa Monte
Summer is for romance, and this amorous track by Brazilian singer Marisa Monte is guaranteed to make you feel the L-O-V-E. For the perfect wine pairing, VIVANT Experience Producer Luc Beneplanc suggests this bright white from Domaine Luneau-Papin, a Loire Valley estate helmed by adorable husband-and-wife duo Pierre-Marie and Marie Luneau. Sparks will fly.
Get his pick: Domaine Luneau-Papin Excelsior 2013
"Feeling Alive" by Earl St. Clair
Try not feeling alive while listening to this toe-tapping beat by Cleveland-based singer Earl St. Clair. To keep the good energy going, pour a glass of bubbly from organic producer Champagne André Heucq. "Push play on this song and pop a bottle with friends at a poolside lunch of ceviche and grilled scallops," says VIVANT Editor-in-Chief Jacob Cigainero.
Get his pick: Champagne André Heucq Heritage Rosé de Meunier Extra Brut NV
"In the Summer" by Thieving Birds
Two things that spell summer for Music & Wine Experience Producer Crystal Mangano? This upbeat track by Texan band Thieving Birds and a medium-bodied Sauvignon Blanc, with expressive notes of peach, apricot, and juicy pair. "This combination will win you over instantly," she says.
Get her pick: Domaine Vincent Pinard Nuance 2018

"Muy Tranquilo" by Gramatik
Need a dose of cool sonic feel-good? VIVANT Graphic Designers Carla Lanfranchini and Julia Takacs recommend opening a bottle of Champagne De Sousa Caudalies Grand Cru Extra Brut with this poppy trip hop track. "This song and champagne are great together to celebrate being outside getting some vitamin D," says Carla.
Get their pick: Champagne De Sousa Caudalies Grand Cru Extra Brut
"Vanilla Fraise" by L'Impératrice
One of the six international headliners of music and wine festival ROOTSTOCK—streaming live on July 10 and 11—is French band L'Impératrice. With their distinct disco- and funk-inflected sound, the electronic pop group borrows inspo from movie soundtracks of the 1970s. VIVANT Customer Experience Manager, Daphné Delarue, recommends pairing the band's groovy "Vanilla Fraise" track with a glass of rosé from Domaine Philippe Gilbert in the Loire. "When I listen to this song, I get the joyful feeling that summer is coming," she says. "The fruity and fresh rosé sets the exact same tone."
Get her pick: Domaine Philippe Gilbert Rosé 2019
Loving the grooves? Favorite our playlist on Spotify. And for more wine and music inspiration, join us on VIVANT for a special music event with ROOTSTOCK, July 10 and 11.