Curious
It all starts with that first taste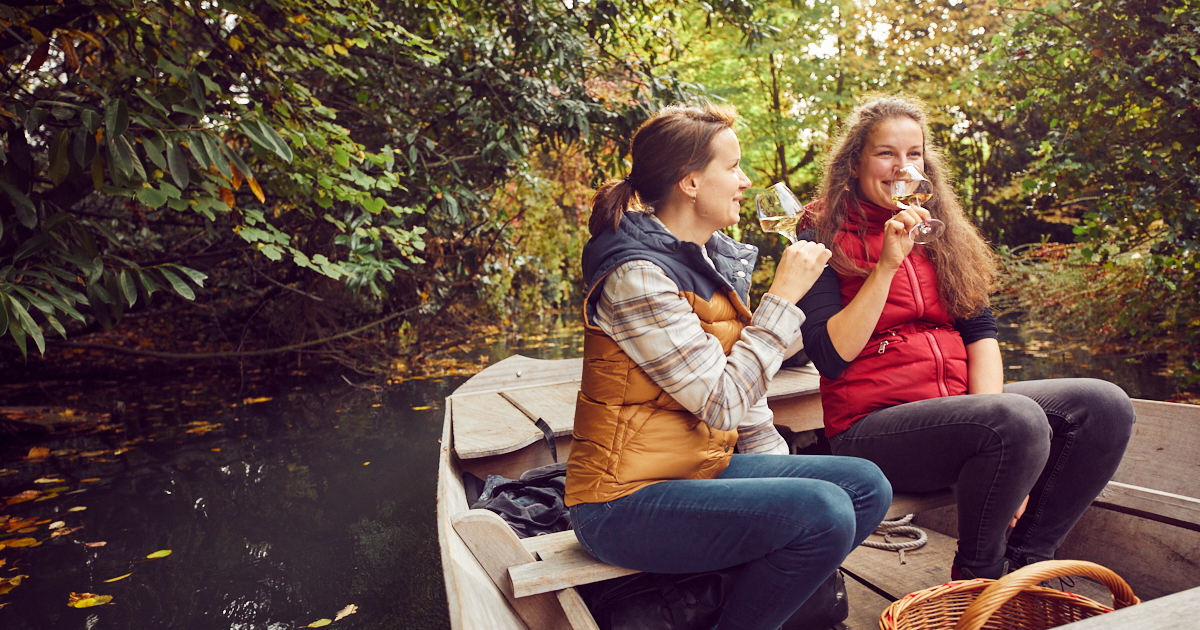 General  /  Jul 16  /  BY Siobhan Reid
Our Top Tips for Drinking Outdoors
There are few pleasures greater than drinking wine outdoors, where calming sounds and eye-soothing scenery are the only "distractions" from what's in your glass. Wine is a celebration of all living things, so there's something especially special about enjoying it nature. That said, imbibing en plein air requires more advanced planning than drinking indoors. Portability is a factor along with the setting, the weather, the preferences of your group, and the overall vibe. Here are our tips for success.
Read the "Room"
Or should we say, anticipate your environment. The bottle that you choose for a hike through the mountains should be different than the wine you bring to a picnic on a hot summer's day (our recommendations: a refreshing Muscadet and a crowd-pleasing rosé). With outdoor adventures, especially the more logistically complex ones, it can be tempting to grab whatever's in your fridge. But thinking ahead to the "where" and "why"—and this applies to indoor as well as outdoor drinking—shows extra thoughtfulness and consideration.
Keep it Glassy
We're not here to judge the folks who drink wine out of cans and boxes (hey—it's all a matter of personal preference). But trust us when we say that the container has a huge effect on a wine's taste and the overall drinking experience. A proper glass concentrates the aromas around the rim and allows the wine's full flavor profile to develop. The best non-glass alternative: these shatterproof, reusable Govino wine glasses. As for the vino, you already know that VIVANT's Tasting Kits offer a selection of responsibly-made biodynamic and organic wine, housed in sleek containers that preserve the complete bouquet, flavor profile, and mouthfeel of a wine. Right?
Be Chill(ed)
Insulated carrying cases are the fanny packs of the wine world. Sporting one will probably earn you some judgmental glances and a few snickers from passersby, but it certainly beats shouldering a backpack full of supplies. Plus, how good does a chilled Riesling on the beach sound? Here's our go-to carrying case for drinking outdoors.
Keep an Eye To the Sky
You wouldn't drink iced coffee in the dead of winter, right? By the same logic, a heavy red isn't an ideal match for a 100-degree day nor is an acidic white the perfect pairing for a chilly summer afternoon. If you're going to trouble of selecting a wine for a specific outdoor event, you'll want to check the forecast first. It seems obvious but it bears mentioning.
Curious for more?
Subscribe to our weekly editorial digest and get a curated mix of stories straight to your inbox.