Curious
It all starts with that first taste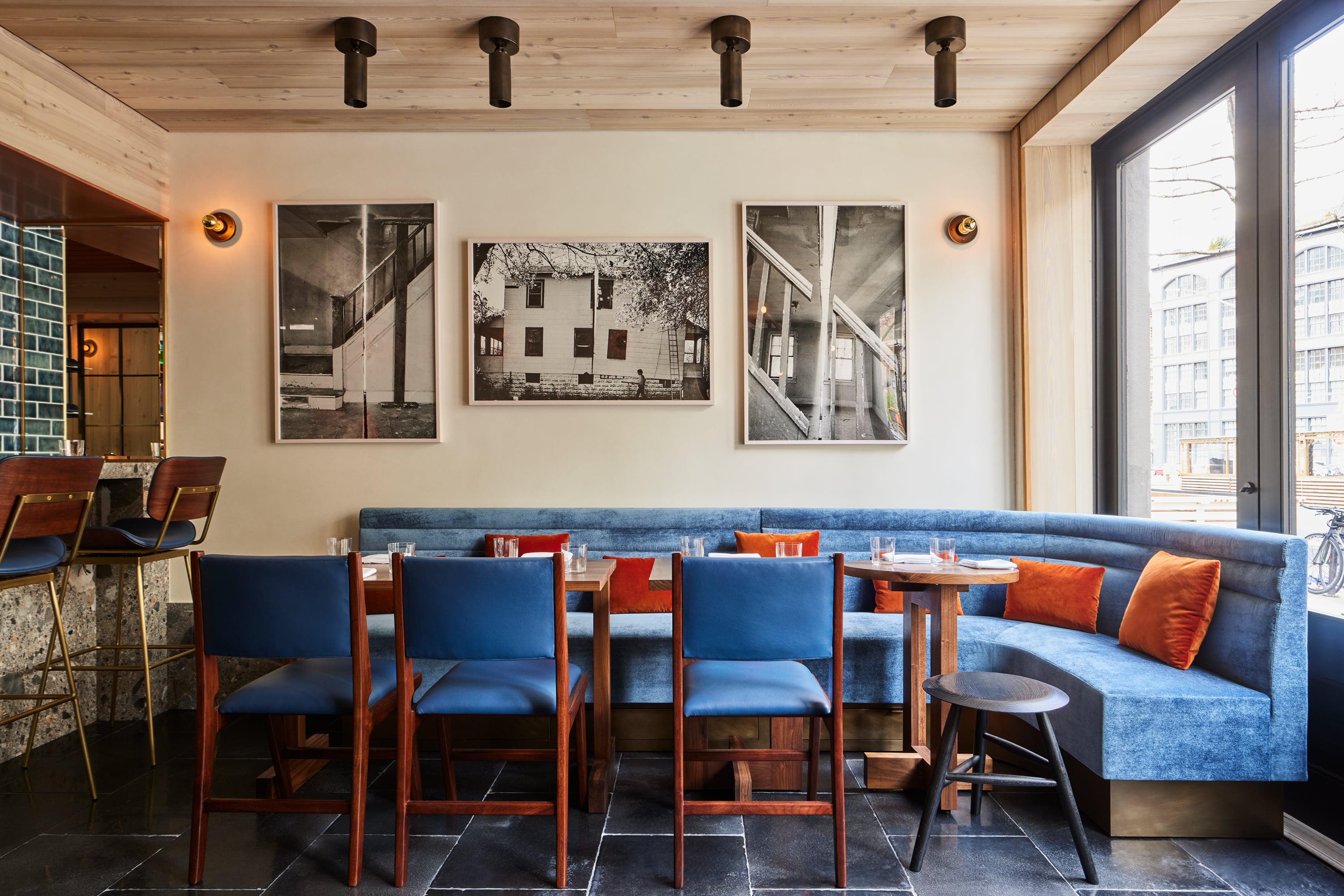 Food & Wine  /  Sept 8  /  BY Siobhan Reid
First Look: One White Street, New York
In New York City, bold new dining concepts are a dime a dozen, so it takes a lot to catch our attention. All-star talent, superb food and wine, and stellar design are easy ways to win points—and the month-old One White Street delivers on all three. What excites us the most about the Tribeca newcomer, however, is its sense of community and its come-one-come-all ethos (not to mention its terrific wine list).
You could argue it comes by this naturally. The multi-story restaurant is housed inside a historic townhouse that previously served as the embassy of Nutopia, the utopian nation-state founded by John Lennon and Yoko Ono in 1973. The legacy of the "conceptualist country" inspired chef Austin Johnson (formerly of the Michelin-starred Frenchie in Paris) and sommelier Dustin Wilson (the former wine director at Eleven Madison Park) to create a dining experience that's accessible, feel-good, and a little rock 'n' roll—not in theme or décor, but in its rule-breaking attitude.
Instead of sourcing from the same purveyors as every other restaurant in the city, Johnson and Wilson built a 10-acre farm in the Hudson Valley that grows vegetables (peas, radishes, collard greens, fresh herbs) exclusively for the restaurant.
On the ground floor is a 25-seat wine bar and a curbside space that offers wines by the glass and a la carte dishes (entrées from $10). Meanwhile, on the upper floors, Johnson serves a tasting menu (six courses for $148) from two open-concept kitchens. The menu changes constantly based on what's in season—right now, offerings include chilled foie gras with red pepper marmalade and harissa and smoked tomatoes with toasted sesame and pearl onions.
The wine list, too, is in a league of its own. The organizing principle of the menu is not region, country, or varietal, but easy-to-understand descriptors like Bright & Refreshing, Floral & Fragrant, Chilled Reds, and Dark Fruit & Structure.
Wine director Audrey Frick says her previous experience at Frasca Food and Wine, in Boulder, Colorado, informed the approach. "My mentors, Carlin Karr and Bobby Stuckey, always guided me to speak about wine in an accessible way with regards to how a wine feels, beyond the technical information that's often lost on guests," she says. "It felt appropriate to carry that forward at One White Street, where we strive to offer selections that are diverse and approachable, with an emphasis on sustainability and value across all price points."
Of the 200-some wines on the list, there are plenty of sustainable options, like a plush Pinot Noir from the Willamette Valley, a delicate Albillo Real from Spain's Sierra de Gredos, and a refreshing Grüner Veltliner from Lower Austria.
Right now, Frick's favorite pairing is a green herb gazpacho with tomatillo, cucumber and sheep yogurt and the biodynamic Domaine Ostertag 2017 Les Vieille Vignes de Sylvaner. "This wine's fragrant aromatics and energy enhances the dish's freshness and texture," she says.
Between the wine, food, and feel-good vibes, One White Street might just be the closest thing we've ever seen to a modern-day utopia. John Lennon and Yoko Ono would be proud.
Curious for more?
Subscribe to our weekly editorial digest and get a curated mix of stories straight to your inbox.